In January 2022, Jes Rude Dragsted took over as Chief Information Officer (CIO) at e-Boks. Here he explains about the focus areas in e-Boks' development plans – and extols the virtues of supplying tried-and-tested solutions in volatile times.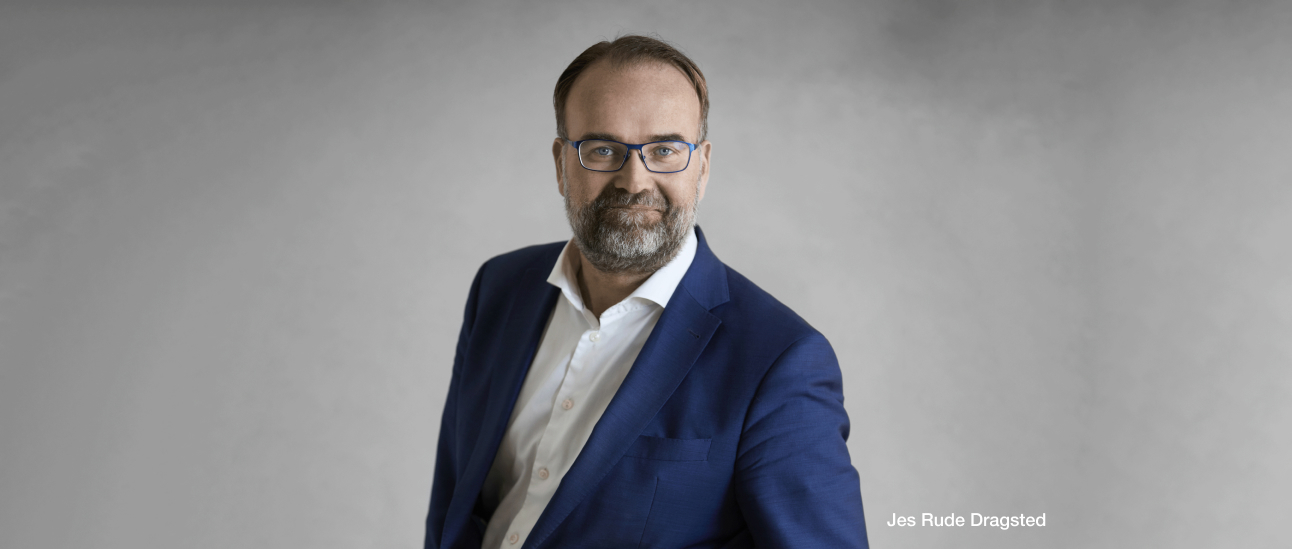 e-Boks
e-Boks is a trusted Nordic provider of secure platforms and digital postboxes that enables efficient communication between public authorities, citizens and businesses.
New business at home and abroad
A new role in an established Danish market. Rapidly growing international interest in the latest version of e-Boks' secure platform. These are two parallel and closely connected tracks in e-Boks' development, which Jes Rude Dragsted has been responsible for since January 2022.
Foreign interest in e-Boks has grown steadily over several years, proven by a plethora of dialogues currently in progress with interested clients. International partners are often driven by a desire to optimise and cut costs, as they hope to find more efficient ways to reach their consumers. Demand is specific:
"Digitisation, as an example in the Middle East, is driven by a cost-cutting agenda which we are keen to help satisfy. Public authorities and certain sectors, including finance, telecommunications and utilities, are eager to explore new ways of getting into contact with their customers. In Denmark, we have progressed from snail mail via secure email services to mobile solutions. This is where we are today. Other countries are now hoping to find a way to skip the email phase and move directly into mobile solutions," explains Jes Rude Dragsted.

Twenty years with data security
Dragsted emphasizes that, due to decades of work with secure digital communications, Denmark has developed a unique position, with special experience and an excellent worldwide reputation on the matter.
"On an international level, we're a force to be reckoned with. At a time when privacy as a feature is in great demand, Denmark and Danishness have become a privacy trademark. If your solution is made in Denmark, it has a strong selling point. However, duplicating the entire Danish digitisation model, which also contains secure digital ID solutions, is no easy task. Therefore, e-Boks does not only supply a solution but, to a great extent, also consultancy services with regard to the peripheral set-up," he adds.
He continues:
"Fortunately, having already created the most secure solution possible that has been in use for more than 20 years without any significant breaches, e-Boks has a compelling track record. In an uncertain world, whether you are a private enterprise or a public authority, no CIO is willing to take chances on privacy. We're an IT company that has 20 years of experience. You might expect us to be burdened by an antiquated technology legacy, however this is simply not the case. Our business and IT concepts have developed over time, and both are proving to have lasting value and stability.
Jes Rude Dragsted CIO at e-Boks

"We're an IT company that has 20 years of experience. You might expect us to be burdened by an antiquated technology legacy, however this is simply not the case. Our business and IT concepts have developed over time, and both are proving to have lasting value and stability. "
Clients choose their infrastructure
Current focus on security includes data storage. The so-called Schrems II judgement looms large in our clients' minds, causing many of them to express a wish to either run their own data center, or at least to ensure that their data is stored in their local part of the world.
e-Boks is therefore developing a solution on Amazon Web Services cloud computing that accommodates a variety of technical environments, depending on whether the client seeks to establish a local infrastructure, one on a public cloud or a hybrid set-up that combines on-prem with cloud. This allows our clients to get the solution that best matches their digital strategy.
"We find that a versatile hybrid set-up makes perfect sense on the international market. We are aware that the strength of e-Boks lies in the supply of not only our software but also in our solution that functions well in an eco-system. The security policies of our clients differ, as do their approaches to disposing their own data. No matter where they wish to store the data, we deliver a platform-as-a-service that is user-friendly, scalable and simple to implement."

Ready for new digital post from Day 1
In recent months, e-Boks has implemented a transition to next-generation public digital post services in its Danish domestic market. Whilst most Danes barely noticed the transition, e-Boks has behind the scenes implemented radical technical upgrades and the company's IT development department has been busy getting the new solution on track.
"For months we have been on red alert, ready to tackle technical challenges at all times. From our perspective, everything went extremely well. We were ready from Day 1 having complete control over the transition process, providing all the support we were obliged to," states Jes Rude Dragsted.
The individual user only had to log into e-Boks and give their consent to continue receiving post from public authorities. The vast majority of Danes chose to accept the new platform.
"None of our sender clients abandoned us and more than four million Danish users have chosen to remain on e-Boks. Citizens keep all their historical documents on e-Boks and, for private senders too, e-Boks is the place to be. We intend to continue to provide a superior product that has excellent functionality and an attractive user interface design – on a state-of-the-art technical platform," smiles the CIO.
For more than 20 years, we have helped public authorities and businesses securely digitise their communication flows.
We proudly provide the governments of Denmark, Greenland, Norway, Sweden and Ireland with national digital post solutions.
Well-renowned international banks, insurance companies and energy service providers have chosen to use the e-Boks platform instead of pursuing their own solutions.


Explore more insights & success stories