How can a company be truly sustainable in business? Read some examples here and learn how you can promote sustainability in your own company.
Area Sustainable Business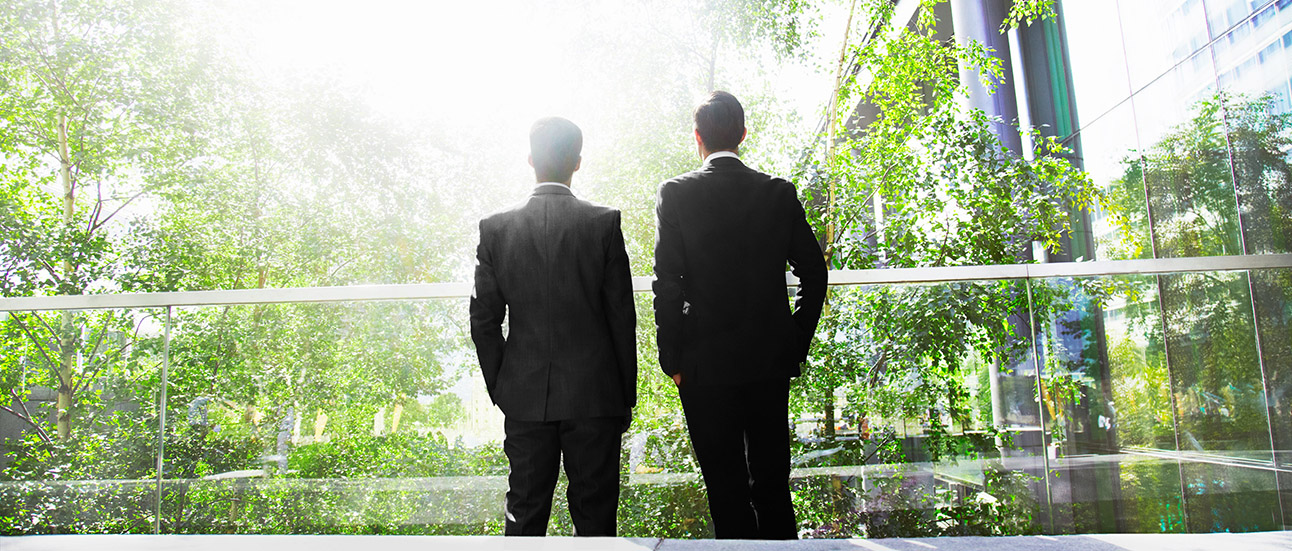 90%
Of executives believe that sustainability is an important idea. However, only 60% have an actual sustainability agenda.
The corporate buzzword
These days businesses try to do more than focus on profitability. In the past few years, the corporate buzzword has become something much more critical: sustainability. Sustainability in business makes perfect sense. As we realise more and more that the world is finite, what good is a big, bustling corporation without, well, a world on which it can stand?
Today, we're going to talk about when, why, and how companies are including sustainability in their corporate strategies.
What is sustainability in business?
Sustainability can mean different things. For one, it can refer to how enterprises can manage to maintain themselves. In this case, however, Harvard Business School defines it as "the effect companies have on the environment or society."
Simply put, it is accepting responsibility for whatever impact be it social, environmental, and, of course, economic you impose onto the world.
The very first evidence of this type of socio-environmental accountability can be traced as far back to over a hundred years ago. Ann-Kristin Bergquist's paper "Business and Sustainability: New Business History Perspectives" for Harvard Business School wrote that prototype green businesses can be seen in the likes of John Harvey and John Henry Cook who advocated for healthier mass-produced food. Charles F. Brush began using wind-powered electricity in 1888, while Poul la Cour in Denmark improved on the technology, and successfully harnessed wind power during the first World War.
Environmental consciousness among industries, however, came to a head in the 1960s. Bergquist writes:
The environmental awakening in the late 1960s mobilized mass movement, a development of new institutions, including a complex of laws and organizational bodies to protect the environment.
By the '80s, the environmental effects of the biggest companies were becoming better known to the world. The 1987 Brundtland report articulated the significance of developing a more sustainable business approach as "meeting the needs of the present generation without compromising the ability for future generations to meet their own needs."
Now, at the 11th hour and with environmental awareness at an all-time high, this pronouncement has become much more imperative. To evaluate a company's ethical efforts, environmental, social, and governance (ESG) standards are employed. Carbon footprint, conservation practices, and inclusivity, and long-term goals are checked.
So why should companies care about sustainability now? When the United Nations released the Intergovernmental Panel on Climate Change report, it stated that we are now in "code red". What this means is that human-induced climate change will
Time may be running out, there are actions we can still do. The UN suggests urgent and deep reductions in C02 and other greenhouse gas emissions. Sustainable actions are critical if we care about a future society on this planet.
Thankfully, there are companies who are taking the lead when it comes to this. Here are some of them...
What are sustainable companies?
Sustainable practices can be as simple as switching to more sustainable materials and planting trees to changing to more energy-efficient appliances and employing renewable energy sources. Initiatives to reduce one's carbon footprint score big on the sustainability scale. More companies are writing environmental policies in their internal and external corporate agenda. Another major movement among industries is to go paperless.
Here are some examples of industries, businesses, and countries that have adopted a sustainability mindset:
IKEA
Everyone's favourite Swedish-based DIY furniture maker took giant strides in sustainability. In the last decade or so, IKEA has been sourcing half of its wood from sustainable foresters and all of its cotton from energy-efficient suppliers that fall under the Better Cotton standards (reduced use of resources, pro-natural practices). IKEA stores also run on solar power.
IBM
This tech giant was one of the major movers of the environment push in the '60s. It regularly publishes sustainability reports (the first one in 1990) and it has been recognized by the European Commission for its energy-efficient practices. Most IBM headquarters employ green architecture with rigid conservation systems.
Denmark
Neither a business nor an industry, this Scandinavian country is at the forefront of digital transformation, formulating a nationwide digitisation strategy back in 1996. In 2014, it employed e-Boks to install a digital postbox system between the government and the citizens, thus improving communication, ensuring security, and cutting paper waste. Online communication was mandated.
With a sound digital system in place and as more countries adopt the Danish model, Denmark is shifting its efforts to the environment; it aims to use fossil-free energy by 2050.
SingPost
In 2013, Singapore's award-winning postal service bestowed an Eco-Post Office Label after an audit of its resources, recycling practices, and waste management showed efforts to be green. Printer cartridges were recycled, motion sensors for lights were employed, bicycles were preferred for delivering mail. In 2018, it launched SmartPost, the digitalization of its postal operations.
Currently, SingPost's sustainability strategy has four pillars: Planet Positive, Operational Excellence, Societal Responsibility, and Transformational Growth.
Bank of America
Just this 2021, Bank of America increased its environmental business initiative (which was first introduced in 2007) target to $1 trillion by 2030. This effort pushes for an "environmental transition across sectors to solutions in energy efficiency, renewable energy, sustainable transportation, resource efficiency, sustainable water and agriculture as well as improved forestry and pollution control measures."
Since 2013, Bank of America has been issuing social and environmental bonds. In 2020, it also issued a $1 billion corporate social bond to support COVID-19 frontliners as well as a $2 billion equality progress sustainability bond to promote racial equality, economic opportunity and environmental sustainability.
e-Boks
We are not only helping countries and companies digitise thanks to our products, but we are also committed to our sustainability goals. e-Boks is working towards 100% carbon-neutral data from our data centre suppliers and planting 120,000 trees by 2030.
With the desire to contribute to promoting positive global development, we at e-Boks built our business on the Ten Principles of the UN Global Compact and UN Sustainable Development Goals. Annually, we report our efforts to the UN Global Compact, including case stories for inspiration."
How does sustainability affect business?
In 2016, a poll by Morning Consult for Fortune revealed that two-thirds of people aged 18 to 34 want to work for a company that gave to charity. A 2017 study by Unilever cited that 33% of consumers prefer brands that support a social or environmental cause. In 2019, NielsenIQ reported that most shoppers under the age of 40 like to "give back" when they shop. These are only three of the numerous surveys that corroborated how much consumers now consider 'cause' in their decisions.
Without beating about the bush, a business still needs to make a profit. Harvard School Business professor Rebecca Henderson, in her course Sustainable Business Strategy, pragmatically said: you can't do good in the world if your business isn't doing well. At this point, sustainability isn't a short-term cheaper option—though it is in the long term—which makes it all the more important for large corporations to take the lead.
Here are some of the benefits of sustainability in business:
It offers a competitive advantage
As previously mentioned, customers love brands that support an ethical cause—and they're willing to pay more for those types of brands. But apart from an external effect, numerous studies have also shown that millennials and Gen-Z prefer to work for companies that are socially, environmentally, and ethically responsible. It also does wonders for your brand's image.
It opens more investment opportunities
Sustainability efforts can stretch markets and perhaps create new ones. Investors are also more likely to be attracted to positive changes. A 2014 study by Deutsche Bank showed that ethically accountable companies outperformed the market in medium- and long-range terms.
It encourages change
When big companies pull their weight around for the betterment of mankind, things happen—and they happen quickly. For example, in 2018, to encourage transparency, Unilever revealed its entire palm oil supply chain, from the source to the final product. The move was reportedly made to prompt a radical change as palm oil production was discovered to heavily contribute to greenhouse gas emissions; there were also issues regarding deforestation and human rights abuses. Not only did Unilever switch to more sustainable sources, but it also joined up with other huge companies to make the same shift.
It reduces business costs
This one is a given. Much has been said on the savings earned from digitalisation—from the reduction of infrastructure to the decreased dependence on paper. Take, for example, a bank. Its ancient analogue system not only consumes an unnecessary amount of paper, but each step goes through a different person. Just think of the cost of running numerous offices for one transaction alone. Not only is this process needlessly expensive and tedious, but it's also frustrating for the consumer who is well aware that there are easier digital solutions.
One another example is USPS, the USA's lagging postal service is spending $3 billion a year in maintaining outdated logistical costs.
It helps the environment
Ultimately, this is the goal of every company with a sustainability strategy. Many companies are diving into conservation efforts, converting to cleaner energy, and more. Governments becoming concerned with companies' impact are also implementing regulations to protect the environment. Diving into this green-thinking will help you comply with these policies better.
For example, the EU has a Taxonomy regulation which calls for disclosures across the full value chain. This is directly linked to the goal of Europe being net-zero carbon emissions by 2050. As such, there is also a focus on building resilience to climate change, environmental degradation and loss of biodiversity.
Under this agreed Taxonomy regulation that has come into effect in 2021, companies and investors will need to disclose the environmental performance of their activities.
How can companies become more sustainable businesses?
Based on a 2016 MIT study, 90% of executives believe that sustainability is an important idea. However, only 60% have an actual sustainability agenda. If you're seriously up for injecting sustainability into your business, here are some tips you can follow.
Do an audit on your company's carbon footprint
Knowing your company's biggest problem can help you come up with the most impactful solution. Are you consuming too much electricity? How much are you spending on paper? Is your supply chain wasteful? Question every step in your value chain and see where you can improve in your practices.
Come up with concrete goals
Now that you want to be ethically accountable, what now? It's not enough to say you're green and you'll enforce a carpooling service in your company. Come up with success indicators. Write time-bound goals. Make a step-by-step implementation plan. Rewrite your company policies to include environmental initiatives. Incentivise your employee's efforts to encourage them further.
Having a vision is good, but it will be nothing unless you translate that into a mission.
Create an accountability team
Have a team be in charge of your progress. Are you making good on your goals? Collect data on your initiatives and a consultant analyse and make data-driven suggestions on your next moves. Are you not on track to reach your goal of using green fuel for your company cars? What is the cause and how can you better assert your objectives? Becoming environmentally conscious is an active, perpetually agile movement.
Go digital
This is perhaps the most convenient solution to becoming more sustainable. Not only is it more environmentally sound, but digitisation is the future and it will take your company not just to the current times but to the future. You can start by looking at your operations and logistics to see which ones can be digitised. Then, take it further by undergoing a full digital transformation.
Get a partner to support this shift. e-Boks, for example, can design digital solutions specific to your company's needs. Its long list of clients includes Denmark, Sweden, Norway, Ireland, Greenland, and more.
Become more sustainable. The first step is to partner with e-Boks.
For more than 20 years, we have helped public authorities and businesses securely digitise their communication flows.
We proudly provide the governments of Denmark, Greenland, Norway, Sweden and Ireland with national digital post solutions.
Well-renowned international banks, insurance companies and energy service providers have chosen to use the e-Boks platform instead of pursuing their own solutions.


Explore more insights & success stories