The postal industry is about to become obsolete if it doesn't embrace digitalisation now. What are some of the trends and changes that the postal industry is experiencing to stay relevant in today's modern society? One of the trends that a lot of European countries are embracing is a digital post solution for citizens. It is much more secure and the logical step to transforming the postal service. Here's everything you need and need to know about this digital conversion.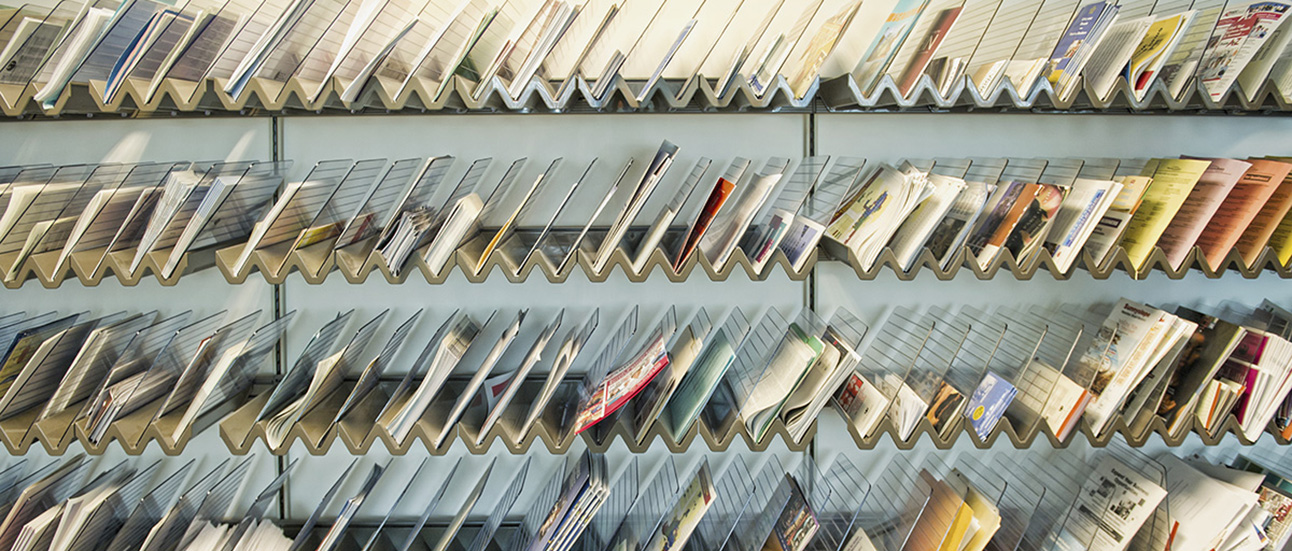 The modern postbox
Offers a two-way advantage—for the government to safely and more effectively communicate with citizens and for citizens to receive national updates anytime and anywhere.
What is a smart post office?
In an increasingly connected world, people want to improve control and efficiency. A smart post office puts together all the best bits about a physical location and the productivity of digital technology.
An example of a smart post office experience, according to Deloitte's "Creating A Smart Office Appealing to Millenials, is a young man who receives a notification about sales on stamps. Going into the post office, he experiences the integration of digital services when he gets welcome messages, notifications about his order, waiting times, etc.
Of course, this is just an example of the power of digitalisation! It's an intuitive and deliberate process that targets not just the service offered, but also considers the customer's lifestyle.
What are the characteristics of a smart post office?
Utilizes physical and digital features

Puts together multiple channels—such as payment, public transport, networking—into one platform for ease of use

Prioritizes a personalised experience for the consumer

Must be intuitive, flexible, and allows control to the consumer

Uses real-time and location-based information to update the customer

Increased transparency and accountability by streamlining the red tape and notifying customers every step of the way

Offers 24/7 digital solutions

Employ a digital postbox that creates an encrypted and secure digital mail ecosystem that eradicates pesky spam and unwanted messages
The hybrid approach to modernization
Post offices are not completely abandoning old systems in place. Some of them are favoring a hybrid approach as a way to become a "smarter" post office. An example is how this digital partnership transformed postal service providers into Nordic front-runners. Post Danmark chose to synergize digital and physical posts through the help of e-Boks. They offered digital postal services that became decisive in connecting its citizens to companies of all types.
In this scheme, citizens can still opt to receive posts in the mail but the majority of them have converted to receiving important and sensitive documents such as letters from the bank using a more secure digital postbox.
As with most smart technology, the point of having a smart postal service is to truly make the experience more efficient and even enjoyable. After all, no one wants to wait in line at a post office for hours. And surely no one wants to wait for important hospital or bank records in the mail. By turning "smart," the focus becomes directed at the consumer and their needs.
What digital services should you offer at your smart post office?
There are many ways to make your post office work smarter and be up-to-day with today's technology here are some examples of modern approaches:
24/7 access
Transferring to digital means having unlimited access. In Hong Kong's smart post system, for example, customers are allowed to set their posting information (including preparation of address pack slip) at their convenience. Customers can also check the item's status any time they want.
Up-to-the-minute notifications
Information is a two-way street. If the consumer doesn't actively check their mail, come up with a system that will automatically update them with the post's movements.
A secure network
The purpose of the postal industry is the exchange of information, right? Being able to facilitate this in a secure and digital network marries the practicality of email with the privacy of the traditional posts. And you lose a lot of spam in the process.
Digital post is the future. They're essentially an online mailing system within a closed network, thus saving you from public internet-linked detriments like unwanted mail, phishing attempts, and malware. E-mails are different from digital postboxes because the latter offers the user full control of who receives their messages as well as the messages they receive.
Denmark, whose government implemented digital postboxes for public posts years ago, uses each citizen's NemID (civil registration number) to create a nationally sanctioned address. This ensures that there are no anonymous trolls or fake accounts.
Digitized option
Denmark required all of its citizens to open a digital postbox address, but if you're not ready to take that leap yet, you can opt for a hybrid option. In Deutsche Post, for example, users had the option of having their messages sent purely electronically or having them printed out then delivered physically.
Flexibility for personal preferences
Finland experimented to see how customers would respond to digitizing postal methods. Residents of Antilla were given their own lockers at the village center. Instead of delivering them physically every daily, door-to-door delivery was only assigned on specific days. However, residents would receive a digital notification if they had packages. They were given the choice to personally retrieve them from the locker or to just wait for delivery day.
You can give the customers options to decide. They may have posts or parcels that they prefer to get traditionally and those that can be sent digitally.
Creating a smart post office is to figure out what works best for your consumer. Before coming up with your platform, make sure to study your audience—their partialities, weaknesses, needs—to tailor-fit a system that would truly help them.
What are the benefits of fully digitizing the postal industry?
Change is inevitable and digital post is the way to go forward. The postal industry and even those in the B2B sector are missing out on this opportunity if they are not considering this solution as part of their plans.
Better finances
Look at the US Postal Service. Not only is it $160 billion in debt, but it also loses nearly $3 billion a year thanks to the cost of its logistical maintenance, politics, and mounting competition from private couriers. In New Zealand, on the other hand, the price of sending an analog post was raised just to cover the decreased profits of its national postal service.
Sending posts the old way requires so many steps and so much labor—from the stamp vendor to the postman. It's a system that's becoming even more obsolete because of the pandemic's minimized manpower. Think of how much you can save by digitizing.
Saves resources
Paper, gas, time are valuable commodities that are being overused in the traditional postal process. The trees need to be saved. And we can't emphasize the importance of time enough.
Flexible addresses
Remote working? Coworking spaces? Workation? People can work anywhere these days, which makes having a physical address sort of outmoded. Do you want to rely on a physical address to get your message across? A digital post solution is the key wherein recipients can get their important letters anytime and anywhere.
No excuses
Admittedly, there are hurdles to fully digitizing, including teething pains and other adjustments, but this is a matter of getting used to situations. Platforms such as e-Boks help you come up with digitized solutions so you wouldn't have to do the heavy lifting.
Case Study: Modernising Ireland through digital postboxes
It's been over two decades since Denmark's digitalization—an influence that slowly trickled down to other European countries. In early 2021, Ireland took its first big jump towards this process by introducing digital postboxes to Irish citizens via e-Boks. The shift was natural, if not logical. Ireland is a leading technological hub and it houses the regional headquarters of Microsoft, Dell, Intel, IBM, and Facebook.
Ireland's Digital Postbox integration has been in the works since 2019. During its announcement, Minister of State Patrick O'Donovan declared: "It will put citizens at the center — providing them with fast, efficient access to manage and organize their communications in a safe and secure manner."
This modern postbox offers a two-way advantage—for the government to safely and more effectively communicate with citizens and for citizens to receive national updates anytime and anywhere.
"Our plan is to engage with many sectors and all public bodies about service integration," explains Elsa Flanagan from the Office of the Government Chief Information Officer. "We are also working with Local Authorities and Further Education and Training bodies to ensure that the Digital Postbox is accessible and relevant to citizens in all walks of life."
It also offered huge savings for the government.
According to the World Economic Forum, digitalization could prevent 26 billion metric tons of net carbon dioxide emissions while the decrease in electricity consumption could create a $418 billion new value for the economy. This goes hand in hand with Ireland committing to net-zero emissions by 2050.
Apart from the obvious environmental and economic advantages, having a more connected society has also been proven to accelerate productivity and growth.
Is your post office prepared to serve the next generation?
There's a practical reason to update the postal system for the 21st century. Simply put, the majority of its consumers (or potential consumers) are Millennials and Gen Z. It only makes sense to cater to their lifestyles and requirements. This set of young users rely heavily on connectivity, accessibility, and ease of experience. Studies have also shown how much millennials prefer to employ brands that promote social awareness and support causes, which is why they're strong proponents of environmental issues, such as the strain on trees caused by paper.
Are you ready to shift your focus towards a Millennial and Gen-Z audience? Here's a checklist to see what you need to tailor-fit your post office for this generation.
Do you have a smart post office?
Does your post office marry the benefits of physical and digital assets?

Do you use queue numbers so customers need not waste time on lines?

Does your post office lean towards the customer experience?
Do you notify your customers through digital means?
Does your customer still need to go through so many lines just to get one thing done?

Do they get SMS, email, or push notification status updates?

Do you have a self-service system?
Have you diversified your services?
Are you offering hybrid post and parcel services?

Do you have lockers that could serve as a more flexible point of trade for buyers and sellers?
Are you using secure communications platforms?
Are you still depending on email?

Are you using a digital postbox solution that can assure your customers of more secure communications, especially when it comes to sensitive information, like posts?
Are you listening to your customers?
Are you designing your services to cater to your customers?

How do you address complaints and feedback?

Is it convenient for customers to reach representatives for concerns?
What are the future trends of the postal industry?
How will the postal industry adapt to stay relevant? Here are some examples:
Increased connectivity
Yes. If you think the modern postal service is connected now, expect it to be taken a notch further in the years to come. Currently, most postal companies update only when an item has been shipped out and delivered, but soon, customers will be able to see real-time tracking and, perhaps, make real-time adjustments.
Increased automation
Robots aren't the future. Robots are now. More and more courier companies are looking into automation to close the margin of error.
Increased use of data to make logistical decisions
Employing delivery network data will allow the postal industry to make better, more strategic decisions that are truly customer-centric. In fact, a survey by Escher revealed that 94% of postal companies intend to use data analytics to better understand the customers. This invaluable data can show high-traffic locations that could benefit the most from automation. Another way to use data would be to determine bottlenecks and come up with specific remedies.
Increased reliance on a secure communications network
Even in 2023, security continues to be a major reason why many citizens and governments are hesitant to undergo digitalization. This is because they don't have a reliable network that could assure them that their personal information won't be hacked and suddenly leaked for the rest of the online world to see.
Coming up with a safe and protected system is key in convincing the public that digital is the way forward. Digital solutions provider e-Boks, for instance, has been the reliable partner of Denmark, Norway, Sweden, Greenland, and Ireland in coming up with a trustworthy platform that not only guaranteed online privacy and safety but also responded to the demands of the current, mostly internet-driven population.
For more than 20 years, we have helped public authorities and businesses securely digitise their communication flows.
We proudly provide the governments of Denmark, Greenland, Norway, Sweden, and Ireland with national digital post solutions.
Well-renowned international banks, insurance companies, and energy service providers have chosen to use the e-Boks platform instead of pursuing their own solutions.


Explore more insights & success stories