Should you be offering digital services at your post office? What innovations should you be taking on to remain competitive and relevant in the postal service industry?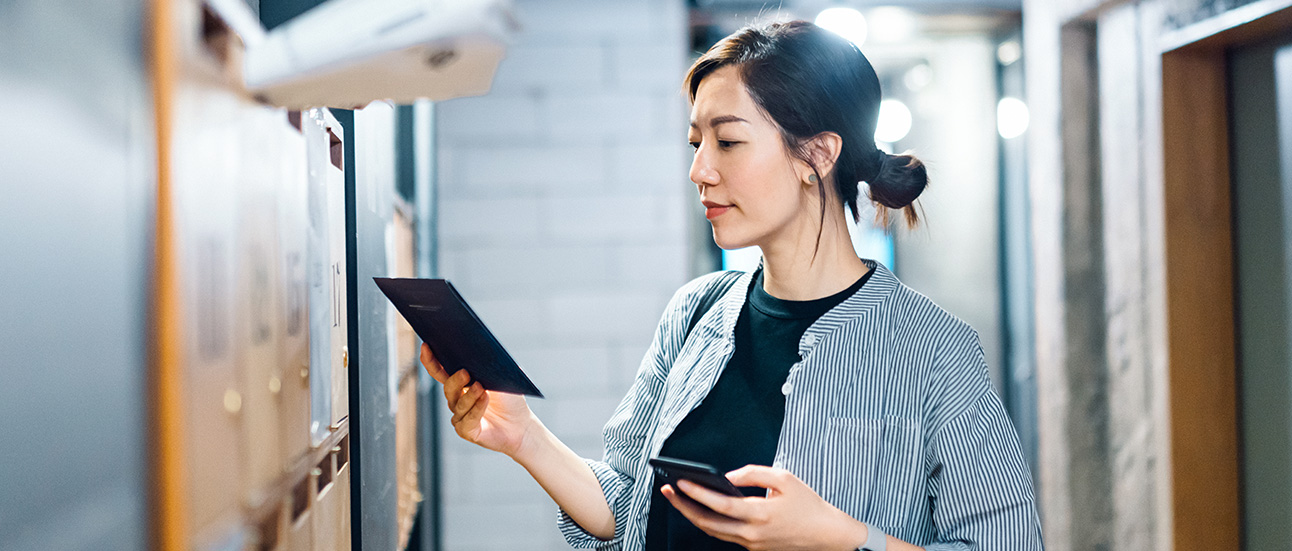 Digital postboxes
Are closed, secure networks that allow for information exchange without spam or other unsolicited messages.
How can you digitize the postal industry?
When was the last time you licked a stamp? How about the last time you walked into a post office to send a letter or even a parcel? It feels like ancient history. The traditional postal system has long been rendered irrelevant by digital alternatives long before the pandemic shut down most physical offices.
The postal industry has been hit from all sides. Apart from the more convenient online and digital options, private couriers are also giving mail offices a run for their money. They are proficient, accessible, fast. Even packages are being delivered by drones.
Fortunately, more and more postal services are stepping into the digital zone, from digitizing mail to using data to promote efficiency. Read on if you're wondering why digital transformation can save the postal industry.
Why Should You Offer Digital Services for Your
Post Office
?
Is it bold to say that everyone is doing it? Or at least making moves towards it. From Ireland to India, postal services are taking big strides into embracing digitalization. Even Kyrgyzstan has launched their digitized KASU Post. In the current climate where data is king and strategies are adapted based on consumer behavior and people live on their smartphones, going digital helps you stay relevant to the current clientele.
Evolution is constant and consistent
Gone are the days when you can just stick with a tried-and-tested business formula and let it be. If anything, the only sure thing we know is that you have to be adaptable. These days, with the advent of data, you can make the adjustments that your consumers are looking for quickly and much more intelligently.
Industries have become interconnected
The postal system has always been connected with commerce, banking, logistics, telecommunications, even entertainment. The Internet has only made the gap among industries smaller. Efficiency and productivity are the buzzwords these days and interconnectivity ties both of those together.
The savings are immense
Savings are some of the biggest considerations to shift to the digital world. According to Forbes, when the IT and engineering company Everest Group helped an airline company transform digitally, not only did business increase in revenue, costs were also reduced by around 25% to 30%. Though employing technology is by no means cheap on the onset, it alleviates operating expenses in the long term and profit growth is substantial.
A 2019 Deloitte study also showed that digitally mature companies (companies that execute digital pivots deeply and comprehensively within their system) are likely to yield higher financial margins:
"A higher level of digital maturity is correlated with above-average financial performance. Higher-maturity organizations are nearly three times more likely than lower-maturity organizations to report net profit margins and annual revenue growth that are significantly above the averages in their industry."
The world is running out of paper
One another motivation to digitize is the strong paperless movement. In August 2021, a United Nations climate panel declared a "code red" on climate change, with global leaders deeming it a wake-up call to cut greenhouse emissions on a large scale.
More companies are becoming involved in sustainable practices, from reducing paper files to using carbon-neutral data to planting trees. We at e-Boks (a Danish digital solutions provider), for example, do this two-fold: not only do we help businesses and countries thrive in the digital space, but we are also committed to planting 30,000 trees by 2030 on top of other environmental initiatives.
Millennials and Gen Z, which are quickly taking over the consumer space, are known to prioritize enterprises that support social and ecological causes. Joining more sustainable efforts would help you appeal to this generation of clientele.
Physical space is becoming obsolete
Another benefit of digitizing the postal industry is the devaluation of a physical address. With the rise of location-independent professions and "workstations," no one has a physical address anymore. You could have a postal box, but only for packages and posts that aren't time-sensitive, and in a climate where everything is on-demand and 24/7, how useful would that be?
What Online and Digital Services Should You Offer?
It's important to understand that digitizing your services is not enough to keep pace with the constantly evolving online sphere. You must employ a digital mindset that goes beyond technology. The success of your digital transformation is largely dependent on the ability to adapt a consumer-oriented belief system and develop policies that would convenience your customers.
Based on Deloitte's insights, seven capabilities are vital to digital transformation. Before you embrace digitalization, make sure that you're not just dipping a toe in the water, you're doing a deep dive.
Flexible and secure infrastructure. Trust remains a primary concern in the digital space. You must be able to ensure your customers' privacy and security in various ways.

Data mastery. Use data to aid you in customer engagement, product development, income growth, and logistics.

Digital-savvy employees. Your employees must have the same constantly adaptable attitude. They must always be ready to learn, retrain, and retool based on the demands of the business environment.

Ecosystem engagement. As we mentioned, industries are becoming even more increasingly interconnected. Make sure to offer a comprehensive experience for your clients.

Intelligent workflows. In line with the constant pivoting and mindset to improve, the workflow should always be kept at the most efficient pace. You can develop this pace with proper technology and strategy.

Unified customer experience. Offer everything your customers could want from your service.

Business model adaptability. Optimize, optimize, optimize.
Once you have these down pat, it's time to consider what specific changes you should implement to your postal service.
McKinsey & Company's published report "The Endgame for Postal Networks" lists crucial strategies to win at e-commerce. We include some of them as well as other essential features that would abet your transformation.
Apply appropriate technology
Technology is at the foreground of digital transformation. The right technology will guarantee security, privacy, and efficiency. You will need something powerful to be able to properly deliver your promises to your customers. It will also be essential in gathering data that will help you come up with necessary business decisions.
Here are some tech worth investing in:
Big Data and Analytics

Artificial intelligence, like chatbots, and machine learning

System and data architecture

Crowd-sourced last-mile delivery

Physical technology, such as drones, robotics, and self-service kiosks
Create a customer-centric design
What does your customer need? How will your customer experience your service? Have you imagined the customer journey?
Here is a checklist to get you started on thinking customer-first:
Digital front-end

Integrated physical and digital CX

Involved customer relationship management (whether it's an auto-reply of assurance or a digital assistant)

24-hour availability

Social media presence
Streamline your operations
Employ technology where you can, take out the tedious and cumbersome details, and let your human resources focus on more specialized and essential work. The right software programs will also eliminate human error, thus saving you time, cost, and overall effort. Becoming customer-oriented does not mean you neglect your company's logistics. Proper back-end will show in the front-end.
Automation of processes, from filing and archiving to information dissemination

Digital workforce planning

Route and network optimization

Customer micro-segmentation
Ask for help
Digital transformation is no easy feat, especially for the postal industry which is rooted in such traditional practices. Employing a digital solutions provider can make this switch a less painful and challenging experience. For example, we at e-Boks have already aided in the transformations of Denmark, Sweden, Ireland, Iceland, Norway, and many major companies all over the world. It already has the infrastructure to provide security, privacy, and convenience. Here are some of the services that we can offer for postal services:
Digital postboxes
More secure than email, digital postboxes are closed, secure networks that allow for information exchange without spam or other unsolicited messages. Only users with a specified eID can join the platform. Currently, numerous governments use this service to disseminate crucial announcements.
Digital signatures
This feature certainly puts more ease into paperwork. Customers no longer have to thumb through pages upon pages of text and painstakingly initial the margins and sign above their name. This secure system promises faster response time (accessible through any mobile device), transparent and accountable processes, and security through strict GDPR compliance.
Digital payments
Forget old bills. e-Boks processes invoice by collaborating with existing payment providers. With this service, you can assure customers of a secure distribution channel.
Portal solution
This add-on allows you to integrate our platform at e-Boks into your website, allowing users and customers to view documents anywhere and at any time. This flexible scheme promises a 100% delivery guarantee and 80% in savings.
Secure digital dialogue
Think of this as a highly secure and highly efficient messaging system. We at e-Boks created this platform upon discovering that customers preferred to respond directly through messages and documents they receive via e-Boks. You can also use it to send out forms and surveys.
How Do You Get Started with Digital Services?
Escher's Future of Posts 2021 survey reveals several trends that arose in the postal industry since the onset of the pandemic. It includes the persistent potential of e-commerce, the increased significance of data and self-service features, postal service apps (with 75% of companies planning to launch an app soon). It also cites a continuing problem with cross-border deliveries as well as a heightened push for digital transformation.
While there may be numerous challenges in the postal industry, there are just as many if not more solutions. Or perhaps just one solution: sign up to be an e-Boks partner now so you can effectively meet your customers in the 21st century.
For more than 20 years, we have helped public authorities and businesses securely digitise their communication flows.
We proudly provide the governments of Denmark, Greenland, Norway, Sweden and Ireland with national digital post solutions.
Well-renowned international banks, insurance companies and energy service providers have chosen to use the e-Boks platform instead of pursuing their own solutions.


Explore more insights & success stories