e-Boks is the biggest climber in a new image study among ICT professionals in Danish organisations conducted by IFO – Instituttet for Opinionsanalyse (a market research company). e-Boks ticks up high scores on many attributes, including utility value, trustworthiness, delivery performance and responsibility. We asked CEO Ulrik Falkner Thagesen what the image survey means for e-Boks.
Country Denmark
Area Digital Postbox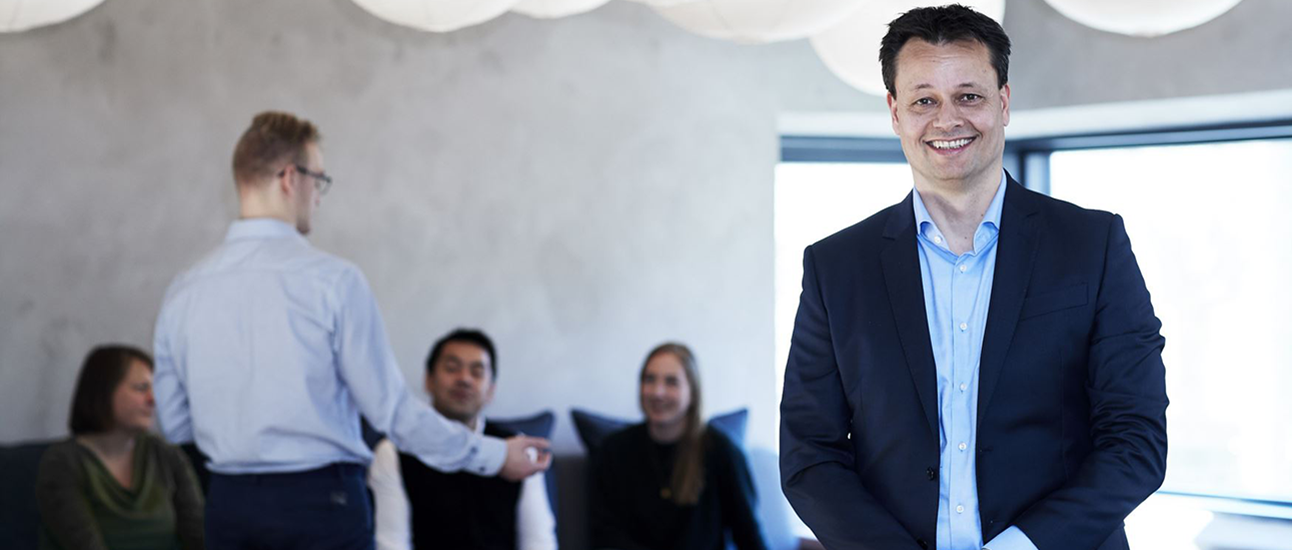 e-Boks ranks 12th
in Overall Image in 2021 - a quantum leap from 38th in 2020.
What use is an image survey among ICT companies to you and e-Boks?
"This image survey compares us with the largest Danish and international companies. The survey gives us a snapshot that shows our successes – but we can also use the survey results to identify where there is still room for us to improve."

The survey is conducted among ICT professionals. What does that mean for you?

"For several years now, we have topped lists based on consumers' opinions, such as Denmark's most trusted brands. The man-in-the-street trusts us and that's fantastic. This study is of particular interest because it is a peer review. The agency asked ICT professionals to voice their opinion. We believe it is crucial to know what professionals think about us because they are the people who actually understand and apply our solutions professionally."

How would you assess e-Boks' overall results this year?

"I am delighted that the survey shows we have made headway across the board. When you make progress on so many attributes, the results are more than just a random snapshot. The results present a clear picture of progress and improvement on many fronts – but none of this comes as a surprise to us.
We are only about 100 employees at e-Boks but we do better than many of the large companies who employ thousands. Moreover, on some attributes we are one of only a handful of Danish companies to achieve top scores. I am extremely proud of our achievements."

On awareness, e-Boks retains fifth place ahead of major brand names, such as Facebook. Google, IBM, Dell and Netcompany. What does it mean for you that your brand is so well known?

"A high awareness score hammers home the fact that we have an awesome market position on our domestic market: more or less all Danes know e-Boks. Awareness means that in Denmark we never have to explain who we are. This is very important when it comes to attracting talented employees who are capable of developing our business.

We break the mould because we are an SME that supplies critical IT infrastructure. Many other suppliers to the public sector in Denmark are mammoth groups who have a very wide range of services to offer. Our business is tailored to one specific objective. The survey results show that excelling within a very specific field and maintaining clear focus are worthwhile."

e-Boks has much higher scores in many categories compared to last year. How did your business and strategy set the ball rolling for e-Boks?
"I find that the COVID-19 pandemic has changed the way people see e-Boks. e-Boks has been key to the health authorities' communication throughout the pandemic and therefore pivotal to our society. We are a familiar universe that works – and that fact is enormously important at a time when we also witnessed some public systems' failure to deliver.

This said these fine results did not happen by chance. I am proud that our employees adapted well to working from home. They walked the extra mile to keep all our systems up and running during this difficult time, while also maintaining the impetus of major development projects, such as our tech stack renewal and new service launches. The radical changes we introduced in recent years are now producing results. We are a dynamic organisation but I think we will soon be done with tuning the motor."

e-Boks scores particularly well on management/economic governance, trustworthiness, responsibility, delivery performance, and utility value. Any thoughts? 

"I think our high scores show precisely who we are and what we represent. There's little point in being a well-known brand if you fail to perform. The survey effectively recognises that we deliver high-quality products and services, and it shows that our customers regard our products as valuable. We are the Danish top scorers in the utility value category. All of these fine scores originate in e-Boks' reputation as a good, responsible company."

Looking ahead, how would you like to see e-Boks improve or gain even greater recognition?

"In future, we will tell the world more about our innovations – about our new products, plus services in our app, our more open development environment and about partnerships. Bearing in mind that we are so well known here in Denmark for our classic secure digital mail services, this may be challenging. At the international level, we are well on our way to achieving a position, in which we sell our communication platform and digital mail component not as an enclosed system, but rather as an unbranded module that docks alongside a company's existing infrastructure to handle communications easily, efficiently and securely. Our latest platform can even be deployed from Copenhagen to every corner of the globe – in the cloud or hybrid cloud, or On Prem. Yet not many Danish companies are aware of this.

All in all, I am extremely proud to receive the accolades inherent to these survey results and, even though our progress has attracted positive attention, we do still wish to improve. Some of the media and some of our competitors seem to think that we lost the most important part of e-Boks' business because we were not chosen to deliver the infrastructure for the next generation of public Digital Post (digital postal system). This is just not true. The survey backs me up on this. Our business continues to forge ahead, not only in Denmark, where we are developing a new display client for public Digital Post, but also internationally, where we have launched several new and exciting projects."
See the results from the image study
FACTS ON THE IMAGE SURVEY CONDUCTED BY IFO - Instituttet for Opinionsanalyse:
The survey is conducted among ICT professionals and people responsible for ICT at Danish companies, organisations and public institutions in the period 20 February - 18 March 2021. The survey examines the image of 50 selected ICT companies on a range of parameters.

1,381 respondents took part.

The respondents were asked e.g. about their awareness of a number of ICT companies and the relative importance of a range of parameters and then to rank the companies on the same parameters.

The overall results are published in Computerworld's magazine, Image 2021.
e-Boks is in the top ten on several parameters:

A well-run, financially healthy company: no. 7
A trustworthy company that I like: no. 8

Responsibility – with respect to the environment, society, employees: no. 5

Delivery performance – delivery time and security of supply (honoring agreements/meeting delivery dates): no. 9
The utility value of services/solutions/productions for your company/organisation: no. 4
Total image score: e-Boks takes a quantum leap from no. 38 in 2020 to no. 12 in 2021. e-Boks was the company that improved its image most from 2020 to 2021.
For more than 20 years, we have helped public authorities and businesses securely digitise their communication flows.
We proudly provide the governments of Denmark, Greenland, Norway, Sweden and Ireland with national digital post solutions.
Well-renowned international banks, insurance companies and energy service providers have chosen to use the e-Boks platform instead of pursuing their own solutions.


Explore more insights & success stories