When finding a tech solution or platform, what are the challenges CIOs face? What are the challenges and trends that you should anticipate for 2022 and beyond?
Area Digital Transformation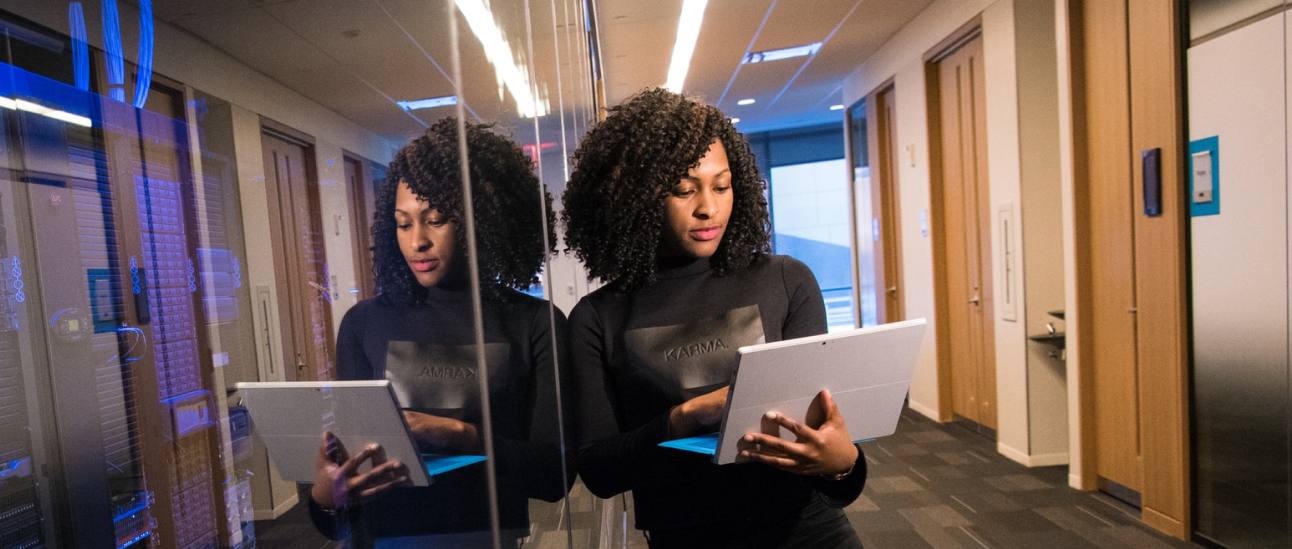 92%
Believe that the CIO role is becoming more digital and innovation-focused
What are the challenges CIOs face?
As the CIO, what should you look out for in 2022 and beyond? What are the trends you should consider so that your business can remain agile and more sustainable?
According to the 2021 State of the CIO report, an overwhelming 82% of CIO respondents said that they used new technologies, IT strategies, and methodologies to adapt and survive during the pandemic. To adjust to the new demands of the market and the uncertain times, 81% also said that they implemented new technology to enable better customer experiences and interactions.
The pandemic has changed the way companies run their businesses. According to the same report, 92% believe that the CIO role is becoming more digital and innovation-focused. In addition to that, 89% said they are more involved in leading digital transformation initiatives compared to their business counterparts.
In fostering these changes, what are the challenges you and other CIOs face? And how do they handle it?
The Biggest Challenges in IT & Infrastructure
The pandemic and advancements in technology such as artificial intelligence may have given you and your fellow C-level executives a lot to think about. Here are some of the biggest challenges that CIOs face according to several studies, as well as their plans on how to handle them. Do you face the same issues in your business?
Managing data
According to the CIO's Guide to Data Application and Modernization, after years of initiating digital transformation, companies are now preparing for the next wave of change: Unlocking the value of their data to fuel better insights and business outcomes.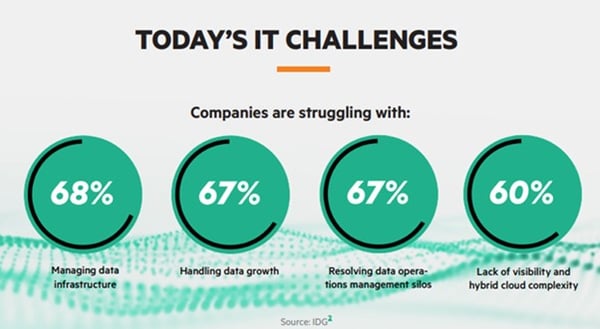 "Big data" isn't just a term that companies use to enhance the customer experience. Companies can also use this to create better output from the team. These days, any company that wants to thrive needs to use data analytics to study its efficiency and make informed strategies.
To do this, companies are looking into cloud solutions, whether they be public, on-premise, or a hybrid model. They are looking for the "ability to easily scale servers, storage, compute, and network capacity up and down based on demand", according to the same report. Perhaps this is something that you're already looking at in your own company.
However, there are some issues that arise when using public cloud solutions, such as security, compliance, and performance. The same report states that many CIOs now prefer the hybrid model, but this still entails new challenges related to integrating, managing, and achieving visibility across a varied IT infrastructure.
The changing role of CIOs
As the CIO of your company, you have taken on a three-pronged role. Aside from the day-to-day functional role, you have also become leaders of transformation and business strategists. This has been evident especially during the pandemic, according to the 2021 State of the CIO report.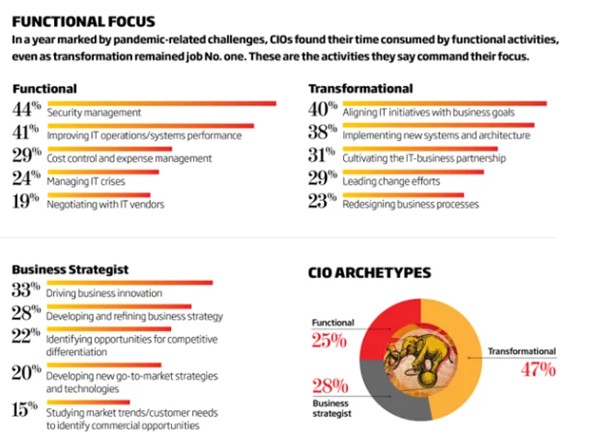 Source: 2021 State of CIO Report
Under the functional role, with today's hybrid workplace or work-from-home setup, CIOs must manage systems that function well remotely. Another responsibility is to come up with solutions that are location-independent.
However, you as a CIO should also come with versatile policing features that guarantee continued productivity within the team. Systems must be agile enough to withstand whatever disruptions come along the way.
Security is also a main concern under the functional role. This has become an even more critical priority with the work-from-home shift. According to Manufacturing magazine, home networks are 3.5 times more likely than corporate networks to be hit by malware. As the CIO, you must ensure amid home networks—while still being versatile enough for personal use.
Aside from the tech security of employees, you and your fellow CIOs must also consider the privacy of their customers or consumers. For example, if they need to send confidential messages, such as bank details or laboratory test results, then the platform should be secure enough to handle this transaction.
In fact, in IDG's CIO COVID-19 Impact Study, securing the enterprise continues to be a top concern: 25% of IT leaders said that cybersecurity initiatives such as real-time security monitoring is one the most important things they were working on. Aside from this, 65% of IT leaders were planning to increase spending on security, with just 1% who planned to cut spending.
Driving business innovation that leads to profit
As the leader of technology, you must be at the forefront of innovation. You must avoid stagnation and lead the charge forward. You must always plan to gain a competitive edge over competitors and account that the company stays on course towards your goals.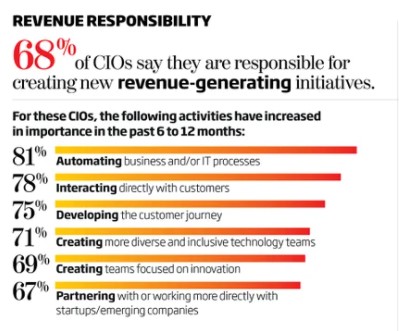 Source: 2021 State of the CIO
Is the company still relying heavily on snail mail, paper contracts, payslips? Then perhaps it's time for the company to go paperless.
Before, the issue of revenue didn't fall on the CIO's lap, but nowadays, they also have to think how they can expand their business.
At the end of all this productivity, you must gauge success in terms of financial effectiveness. Are these systems the most cost-effective solution? The correct tech solution can streamline the supply chain, which can vastly affect revenue streams. With much of business driven by technology, CIOs have become a critical player in furthering the business agenda.
What are the technology priorities of CIOs for 2022 and beyond?
Information and communications technology isn't just a "department" anymore. Its integration into various aspects in a company is vital in growth.
Changes mandated by you could affect organisations on a wider scale, contributing to overall growth and productivity.
Preventing app sprawl fatigue
The tech department is one of the busiest in any company. Hence, having a user-friendly and easy-to-maintain platform can eliminate so many problems and save an incredible amount of time.
A study by Citrix and OnePoll discussed the increased engagement and productivity of employees by using handy tools and collaborative platforms. However, there are instances when employees feel overwhelmed by app sprawl. This happens when employees are given too many tools and not enough efficient ways to execute their tasks.
In fact, 71% of IT managers say that having several apps to execute simple tasks has made work more complex. This is rooted in the problem of not having one platform that can perform many tasks. For example, employees may be given one tool to send messages to customers, another one to send internal messages, and another one to manage ticketing or inquiries.
Do you think this happens to your company? Do you have surveys or check and balances to make sure this doesn't happen? One of your top priorities now is to prevent app sprawl fatigue and finding one-stop-shop solutions that can integrate many apps or tools.
Flexible integration of new solutions
Organisations are grappling with complex modernization strategies that offer many possible paths. Companies need to decide whether they should create cloud-native systems or transform non-cloud native apps without rearchitecting. You as the CIO and the rest of the IT department must consider that these should be deployed anywhere and in any model as business requirements change.
On top of this, there is also cost optimisation. With budget constraints in mind, companies want to avoid large capital expenditures on infrastructure and pay only for resources and capacity used. They also want the flexibility, agility, and self-service advantages associated with as-a-service cloud experiences.
As the CIO, you must already be aware that this is because IT teams want their members focused on transforming the business, not on the day-to-day housekeeping and coordinating updates.
Finding tech solutions compliant with laws & other regulations
It is also necessary to find a tech solutions provider that is not only aware of tech laws in your area but is also compliant with them. Accountability is often overlooked in tech, yet it is indispensable to create a trustful experience—both for the company and for the customer. Legal compliance protects your organisation, saves you from penalties and other potential litigious concerns, and prevents needless disruption.
The tech space is constantly evolving and adapting, making much of the legislation surrounding it ever-changing. Hiring a tech solutions provider that is conscious of these legal boundaries will make you feel more secure. Ultimately though, it helps you win your customers' approval, knowing their sensitive information is protected.
Fostering a forward-thinking culture
Companies need champions at both the executive and grassroots levels to push the agenda of having next-level digital transformation and modernisation.CIOs like you should be leading this charge. And this is something other CIOs also consider — 92% of respondents to a recent survey by New Vantage Partners attribute the "principal challenge to becoming data-driven" to people, business processes, and culture.
Find a Tech Solutions Provider That Addresses These Concerns
As the CIO, you can take a load off your shoulders if you find the right provider. Denmark-based digital provider e-Boks has been in the game for over 20 years, understanding companies' needs for effortless, efficient, and flexible service.
e-Boks' three-fold set of values are curiosity (it drives towards constant innovation); judgment (it shows respect for its users, customers, and partners); and trust (it prioritises its customers' needs). All of these values address any CIO's demands.
e-Boks offers a digital postbox platform that can be an integral part of your, Customer Communication Management system Features include:
Smart distribution
Send messages and documents with REST API or via your interface with no integration required.
Opt-in/out without hassle
Offer your users different ways of giving consent to receiving messages and documents from your organisation.
Two-factor authentication for security
The platform supports two-factor authentications. All verified data is received from an identity provider.
A flexible hybrid cloud solution
The platform is offered in an AWS Hybrid Cloud Solution that helps your organisation integrate your on-premises and cloud operation.
100% GDPR compliance
The platform is GDPR and eIDAS compliant from a sender and receiver perspective.
Secure by design
We employ all the latest security technologies, principles, and procedures to ensure that your digital post is protected.
Self-service
Manage a handful of features such as message distribution and monitor key statistics on the platform.
The role of the CIO continues to grow as technology becomes a more significant player in the economy. Fortunately, digital solutions providers like e-Boks make the job easier.
For more than 20 years, we have helped public authorities and businesses securely digitise their communication flows.
We proudly provide the governments of Denmark, Greenland, Norway, Sweden and Ireland with national digital post solutions.
Well-renowned international banks, insurance companies and energy service providers have chosen to use the e-Boks platform instead of pursuing their own solutions.
Explore more insights & success stories