The global COVID-19 pandemic continues to influence the world in a great many ways. Corporations and authorities have had a stark wake-up call and the advantages of increased digitalization have been made more clear than ever.
Topic Digital Transformation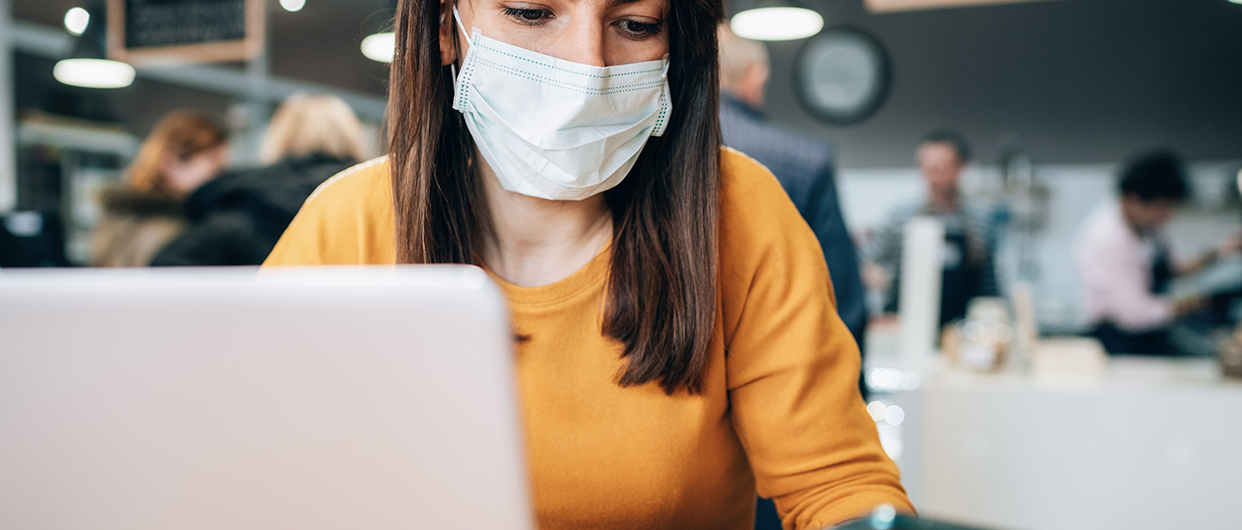 The disruption
Caused by COVID-19 has forced society to rethink their business model and make it more digital
A strong and secure digital Denmark
The COVID-19 pandemic has changed society and the prevailing way of life in almost all corners of the world. One change necessitated by the global wave of lockdowns has been digitalization. With short notice, and sometimes no notice at all, corporations everywhere have been forced to reassess their business practices, and digitalization is suddenly at the top of the agenda. Meetings, conferences, courses – all are being held online, and the demand for supporting technology and software has exploded.
In other words, the disruption caused to society by COVID-19 has forced corporations to rethink their business models, businesses around the world are now heading full speed in a digital direction. Government institutions, too, have seen what the future holds and are rapidly investing in digital infrastructure and increased digitalization.
What's more, in this time of crisis the digital public sector has become a measure of how robust society is: the stronger the digital component of the public sector, the more robust the society. And digital infrastructure is an important element of this, ensuring that government institutions can deliver public services to its citizens and create an environment conducive to financial growth and development.
Having been crowned the country with the most digitalized public sector in the world by the UN in its E-Government Survey 2020 Denmark has long occupied a leading position in the development of digital public services in the EU, and has been able to maintain approximately the same level of service as before the coronavirus pandemic.
Digital solutions create value
New digital solutions and business models have proven their value in this time of crisis that has seen countries around the world shutting down. Even though we are dealing with a unique situation, more corporations and authorities have become aware of the advantages of digitalization – especially when it comes to digital distribution.
The coronavirus crisis has been a wake-up call to many countries – governments and citizens alike. Citizens in several countries have not been able to contact the public sector, either because the postal service has collapsed or because the authorities require citizens to appear in person at a physical location. Thanks to the high degree of digitalization in Denmark, Danish citizens have barely noticed a difference during the coronavirus pandemic, since all communication between citizens, corporations and the public sector primarily takes place online via safe communication channels.
Digital infrastructure improves countries
As COVID-19 spreads across the world in the spring of 2020, it became evident that digitalization would play a significant role in the immediate future of many countries, particularly in terms of maintaining lines of communication with citizens during times of crisis.
Countries that have digital post infrastructure in place can ensure that important information gets out and that social responses are coordinated, leaving such countries in a much better position in times of crisis than they would have been otherwise. Our Scandinavian model, which is based on human rights, data security, and uncompromising business ethics, places us in a unique position to disseminate proven systems around the world.
From luxury to necessity
The pandemic has also accelerated the digitalization of society in other areas. Tools that were previously a luxury, a nice-to-have, and nothing more, have now become an unquestionable necessity. Digital learning, for instance, has proven its value to thousands of students who have been sent home but who still need an education. Digital signatures and interaction tools like Zoom, Microsoft Teams, Google Hangouts, and Skype are being used like never before, and the value derived from having systems in place to work from home has never been greater.
Most consequences of the coronavirus pandemic remain unknown, but the fact that digitalization and new technologies have proven to be essential components of the solution in a crisis is already quite clear. This helps to increase the understanding of how important these tools are and how they can be used within most business areas.
e-Boks offers corporations, authorities, and the private sector an efficient, safe, user-friendly platform for digital dialogue, mailing, and filing of important documents, which ensures that essential information gets out – even during a pandemic.
Have a talk with our experts and learn more about the e‑Boks platform
Want to know how we can help you?
For more than 20 years, we have helped public authorities and businesses securely digitise their communication flows.
We proudly provide the governments of Denmark, Greenland, Norway, Sweden and Ireland with national digital post solutions.
Well-renowned international banks, insurance companies and energy service providers have chosen to use the e-Boks platform instead of pursuing their own solutions.
Explore more insights & success stories