Around two years ago, the workspace debate was about open offices, where the absence of cubicles and dedicated collaborative spaces supposedly encouraged "meaningful interaction." Some considered this setup as an opportunity to improve productivity, while some studies suggest it did quite the opposite. Then, COVID-19 changed the discussion.
Topic Digital Transformation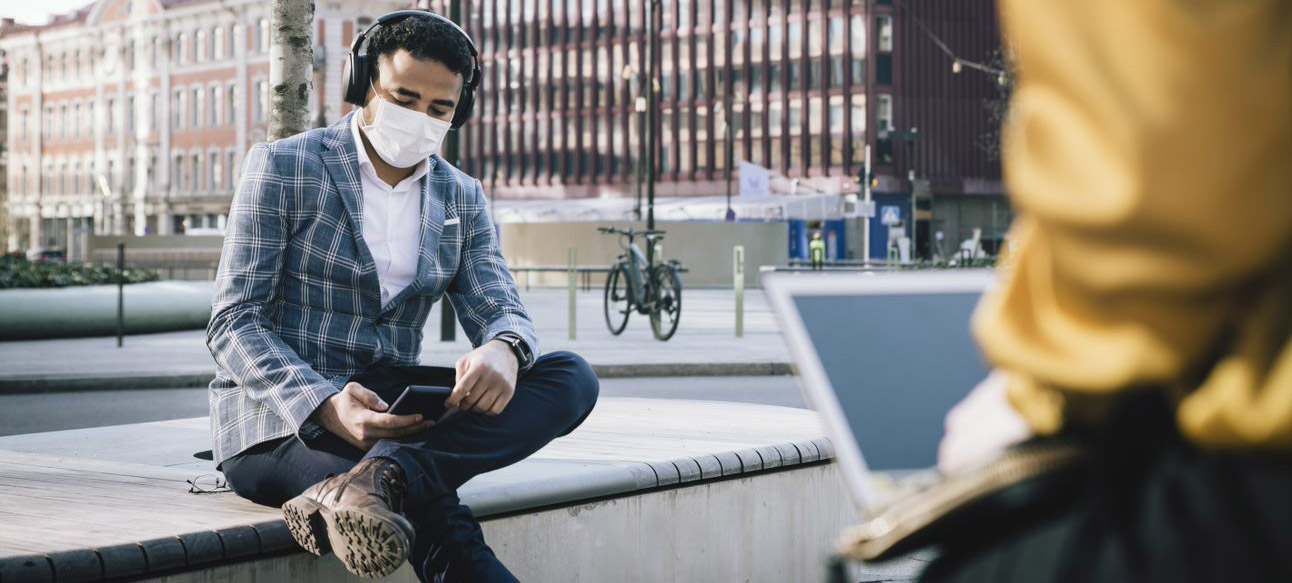 Everyone is going digital
It will be much more costly to catch up than to adapt early.
COVID-19 created digital transformation
From worrying about floor plans and privacy pods, companies had to worry about business continuity measures where the bulk of the work must be done remotely. Processes that previously needed personal appearances were either limited or highly discouraged. People's willingness to mask up also made staying at home a much better option. It was, and still is, safer to work away from other people.
But not all companies were ready for this change. Digital transformation was an unknown concept for most businesses headed by tech-averse bosses. Infrastructures in most countries were also unreliable. While some were able to transition with ease, others had no choice: digitise, or you will not survive.
Globally we saw that governments, banks, and hospitals were among those who were caught off guard by these series of changes. COVID-19 precautions demanded physical distancing, but some of these institutions had little to no substitute processes in place. These are paper-heavy establishments, and the pandemic was about to break their reliance on analogue bureaucracy.
As people became physically distant, enough space opened for innovative opportunities to come knocking.
How COVID-19 changed the business landscape
McKinsey reports that COVID-19 has "have speeded the adoption of digital technologies by several years." Businesses had to modify both their internal systems and external interactions with customers to stay alive.
Decision-makers who previously did not bother with online solutions were also forced to adapt, and fast, and perhaps at a higher cost with demand for digitisation suddenly on the rise. But it also helped them realise that digital transformation has always been inevitable. COVID-19 just made it faster.
Examples of how business operations have changed
Remote working – Working from home is a much safer choice, made possible by various collaboration tools and better connectivity. This meant that business improved for those in the tech solution industry. For example, video chat company Zoom's stocks grew in 2020 as more users went online. Other industries related to creating one's own office space at home also saw opportunities to cash in, with some companies subsidizing employees for such efforts. Virtual events used to be difficult to organise. You need a venue, host, food supplier, lights and sounds, and other factors to consider aside from the main point of the gathering. But in the pandemic, conferences became relatively much simpler to put together. Putting everyone in the same virtual room may not be the same as meeting face to face, but it allows people to attend any important event from anywhere in the world. One sad thing, however, is that people must raid their respective pantries for food. Digital documentation – One issue that kept companies from going digital is documentation, as some still prefer wet signatures for transactions. This is addressed by using secure digital platforms, and a little bit of extra learning for everyone. Once everyone is familiarised with tools, transactions are found to be much smoother than relying on paper. Marketing and promotions – Since customers are at home, the best way to reach them is through their screens. So, businesses went digital, especially those producing food and consumer goods. There are numerous success stories, but some make the understandable mistake of just boosting posts on social media. Thankfully, there are digital marketing professionals who know that there is more to targeting audiences than just putting your company's card details for ads.


Examples of companies that adapted to the demands of digitisation
Before the pandemic, digital transformation was a long process. But that timeline is often stretched either because decision-makers needed more convincing, or there was fear that stakeholders would not like the change. Here are how some companies overcame the challenge of digital transformation, before and during COVID-19.
Notably, the digitisation for some of these companies was sped up, thanks to secure communications platforms provider e-Boks.
PenSam Insurance – Using e-Boks' signing solution, a feature of the platform, PenSam Insurance's customers have availed of their policies conveniently and securely. Bank of America – Erica, Bank of America's virtual assistant from its artificial intelligence program, saw a tremendous rise in interaction during the pandemic. Not only did it learn how to interact with customers, but it also encouraged digital banking among users. Telehealth – The difficulty of in-person consultation encouraged medical professionals to move to remote consultations. While it cannot replace most medical processes, it does save both patients and doctors from added COVID-19 risk while reducing hospital trips for check-ups. Restaurants and groceries – For most countries, going out of homes was only allowed if it is for the purchase of food and other essentials. While businesses in the food and grocery industries found it extremely challenging, with some physical stores even closing, some made digital shifts to continue selling online. Danish government – Governments are at the forefront of the COVID-19 problem, and Danish authorities utilised its already-existing digital solutions to keep its citizens well-informed. Communication drives are important in a health crisis, and aside from relying on media, the National Board of Health and Information directly pushed COVID-19 updates through e-Boks to the public.
Which industries could benefit from full digitisation
Virtually any industry can benefit from full digitisation, but only if one can fully understand how to maximise it. Here are some ideas on how certain industries that make that shift will get an advantage.
Financial and insurance – The common pain point for customers of financial and insurance companies is the paperwork. By enabling digital documentation, turnaround time is improved, and transactions become more convenient. The signing of digital documents like the application of loans, insurance, mortgages, etc.
Health care – By having a secure network, patients will have no fear about receiving important results in full confidence. It also allows them to keep track of all the transactions they have availed from hospitals and providers.
Governments and other public offices – The key to effective government transactions is convenience. Reduced processing times and eradicating the need for personal appearances free up precious time for both public service employees and their constituents. Enterprises and multi-national corporations – Top-level security is a must moving forward, and investing this early will help companies handling vast amounts of employee or customer data. Postal industry: There will not be any fear of getting your documents late or lost in the mail if everyone gets it securely electronically.
How digitising can help your business beyond COVID
Understandably, some are still hesitant to transform digitally, thinking that everything will just go back to pre-COVID systems. But that is a step back while the rest of the world is going forward. Refusing to go digital means missing out on the following:
Financial gains- businesses can save money when they invest in digitising their operations. It is most evident in shorter transaction times, which frees up man-hours for other business improvements.
Environmental contributions going digital lessens the need for paper, which creates an impact on wood demand, among other benefits. Investing in green technology also allows for efficient energy consumption for necessary hardware. Using reliable systems, like e-Boks' digital solutions, also help improve business transactions in a sustainable manner. In adapting to climate change, every contribution matters. Future-proofing - Everyone is going digital. It will be much more costly to catch up than to adapt early. Not only will you be spending on hardware and software, but you also must make sure your employees are properly onboarded to the new working systems. You do not want to get left behind. Security – Aside from future-proofing your business, digitisation is done in a secure way also protects you from new types of threats online. Consumer habits – COVID-19 has forced most to work through their screens, and this will be the new normal. Screen time is precious time, and this is where businesses can reach their audiences. Getting their attention will be more challenging, but it will save you money in the long run if you start understanding where your target customers are right now.
Have a talk with our experts and learn more about the e‑Boks platform
Want to know how we can help you?
For more than 20 years, we have helped public authorities and businesses securely digitise their communication flows.
We proudly provide the governments of Denmark, Greenland, Norway, Sweden and Ireland with national digital post solutions.
Well-renowned international banks, insurance companies and energy service providers have chosen to use the e-Boks platform instead of pursuing their own solutions.


Explore more insights & success stories