As the COVID-19 pandemic swept the world, people and businesses tried their best to adjust and land in a new normal. Digital platforms and technologies for many became a lifeline enabling them to continue their social interactions with family and friends, engage in home learning and home working.
Area Digital Transformation
20%
Of people aged 75 years and older use the internet at least occasionally.
The importance of digital technology in the time of Covid-19
Unfortunately, the pandemic also put into stark relief the divide in our societies for those who lack access to Information and Communications Technology (ICT), or for other reasons cannot access the digital communications platforms, which more than ever connect our societies. While digital communications platforms such as e-Boks became a lifeline for fast and trusted communication to citizens about the coronavirus, others became a breeding ground for misinformation and fake news. With all the potential offered to us by digital technologies, one thing is certain: The COVID-19 pandemic has taught us the importance of bridging the digital divide to build social cohesion and fair and just societies.
Digital technologies hold the potential to drive social inclusion and development
A recent World Economic Forum-Ipsos survey with more than 23,000 adults from 28 countries asked people to reflect on 7 potential issues and how they would affect their lives over the next 12 months. While people were generally pessimistic about the outlooks for health, employment and climate change, most adults were uniquely optimistic about accessing technology, digital tools and training in the next months. The survey noted a palpable mind-shift when it comes to technology, likely because people throughout the pandemic have experienced technology as a lifeline to living near-normal lives – both personal and for businesses – and are now also seeing technology to hold the key to recovery. Digital technologies have the potential to shape a world that is more connected, empathetic and resilient. But it requires that governments, platform providers, civil society organizations and other stakeholders come together to ensure that we bridge the digital divide. COVID-19 lockdowns hit people without internet access the hardest and left billions behind. According to the UN, one in two people does not have access to the internet, with many relying on internet cafes and libraries to get online. During lockdowns those options were no longer viable, leaving already vulnerable population groups unable to get information about the virus, talk to relatives, interview for jobs or asylum applications and access welfare programs and banking services.
e-Boks action: As a trusted Nordic provider of secure platforms and digital postboxes, it is e-Boks' ambition to help build better digital societies with citizens at the centre. Our strategy is to build and grow our business worldwide in countries and among businesses that share this ambition. Our goal is to support our clients in making secure platforms and postboxes as inclusive as possible, serving the daily needs of people in a digitalizing world. As part of that, we partner to secure an accessible communications path between public and private institutions, applying the principle of availability in the way we provide access to information, also working to ensure that our systems are accessible for IT-vulnerable groups, such as people with disabilities and people with limited access to devices.
The COVID-19 pandemic demonstrated that the internet has become a basic need, not a nice-to-have, as a means to accessing public services, education and a chance in life. We need to ensure that the internet is accessible and affordable for everyone, while also driving inclusive digital literacy skills across population groups, in school and workplace settings. In this context, it is also important to be reminded of the opportunities and challenges presented by growing old in a digital world. A survey published by the European Fundamental Rights Agency in 2020 showed that the digital divide between generations is significant and increases with age. Across the EU, 20% of people aged 75 years and older use the internet at least occasionally, in comparison with 98% of 16-29-year-olds, the so-called 'digital natives.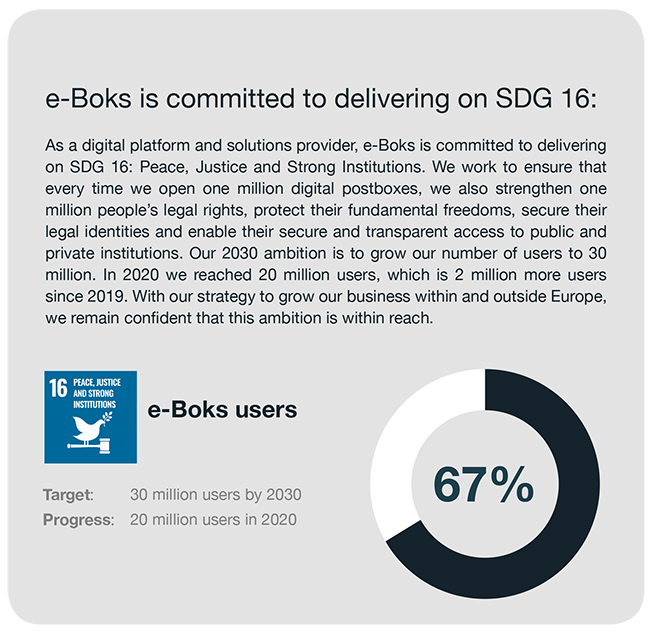 The 'infodemic' makes it harder for people to find trustworthy sources
The flip-side to growing digitalization has been the massive 'infodemic' – an overabundance of information, some accurate, some not – that has accompanied the COVID-19 pandemic. The infodemic has made it harder for people, decision-makers, and health workers to find trustworthy sources and reliable guidance when they need it, and it has provided fertile ground for rumors and false conspiracy theories about the virus. According to the World Health Organization, misinformation has been one of the greatest threats to public health during the COVID-19 outbreak. Certainly, the COVID-19 outbreak illustrated the importance of public trust in policymakers, public institutions and experts.
e-Boks action: There is a growing understanding that well-functioning digital public infrastructures enable speedy, reliable and frequent communication between governments, authorities, businesses and citizens. Building on our learnings and insights from Denmark and other Nordic countries we are committed to helping leapfrog the creation of effective digital response systems in countries and among businesses who wish to bolster their preparedness and resilience to crises such as the COVID-19 pandemic.
Several studies across the world showed that populations with a general low trust in public institutions and experts were more susceptible to misinformation, less likely to follow public health guidance about COVID-19 and less willing to get vaccinated. Platform providers have a key obligation to ensure that people can trust the communication they source.
Data can be a force for good, but never at the cost of people's rights and freedoms
Trust is at the core of the way policymakers, public institutions, businesses and data platforms approach the ethical questions emerging around the access to and use of our personal data, for example through artificial intelligence, machine learning and the use of algorithms. There is no doubt that data can be a force for good. Internet technologies have for example demonstrated their value for the early detection and prediction of epidemic outbreaks, simply based on our behaviours and search history online. New pandemic electronic surveillance systems have evolved, analysing online data with super-computing power to do virus tracking and enable easy and fast access to information about COVID-19. Access to population-based health data is critical as we drive real-world evidence for the safety, effectiveness and acceptability of new COVID-19 vaccines across population groups. At the same time, this has raised ethical concerns across a number of its uses: For example, access to population-based health data can be used as a bargaining chip for negotiating early access to COVID-19 vaccines with pharmaceutical companies to the detriment of countries that do not have the same bargaining power. Testing and vaccine strategies have also raised concerns about the need to protect people's personal data, freedoms and rights.
e-Boks action: e-Boks is committed to helping build secure digital platforms that strengthen citizens' data protection rights and freedoms. We partner for the long term, working with our public and private clients to ensure that they build trusted and secure digital infrastructures that live up to these inviolable criteria.
The European Data Protection Board, at their 23rd Plenary Session in March 2021, released a new set of guidelines on the processing of health data for research purposes in the COVID-19 context, including guidelines on geolocation and other tracing tools, as well as international data transfers. As countries are getting ready to introduce COVID-19 vaccine passports, the need for observing personal data protection rights is in focus. In addition, concerns have been raised that vaccine passports could lead to prejudice against different groups who are unwilling or unable to receive the vaccines for various reasons such as pregnancy and other medical conditions. The need for observing people's individual freedoms and rights has never been more important, and the coming year will put policymakers, businesses, data platform providers, and civil rights organizations in the spotlight to ensure that we recover fast without violating basic human rights.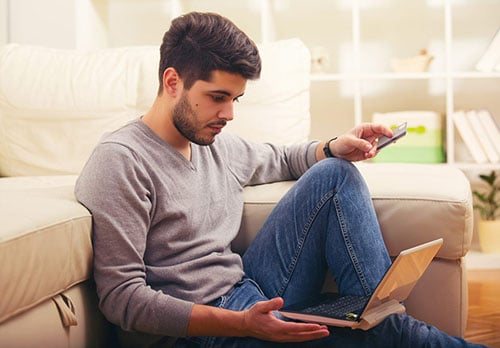 For more than 20 years, we have helped public authorities and businesses securely digitise their communication flows.
We proudly provide the governments of Denmark, Greenland, Norway, Sweden and Ireland with national digital post solutions.
Well-renowned international banks, insurance companies and energy service providers have chosen to use the e-Boks platform instead of pursuing their own solutions.


Explore more insights & success stories