The world has gone digital, whether you were ready for it or not. It has been a time of location-independent work, online shopping, and even virtual currency. This shift has shown how everyone can function more efficiently in every aspect of our lives when we go digital.
Area Digital Transformation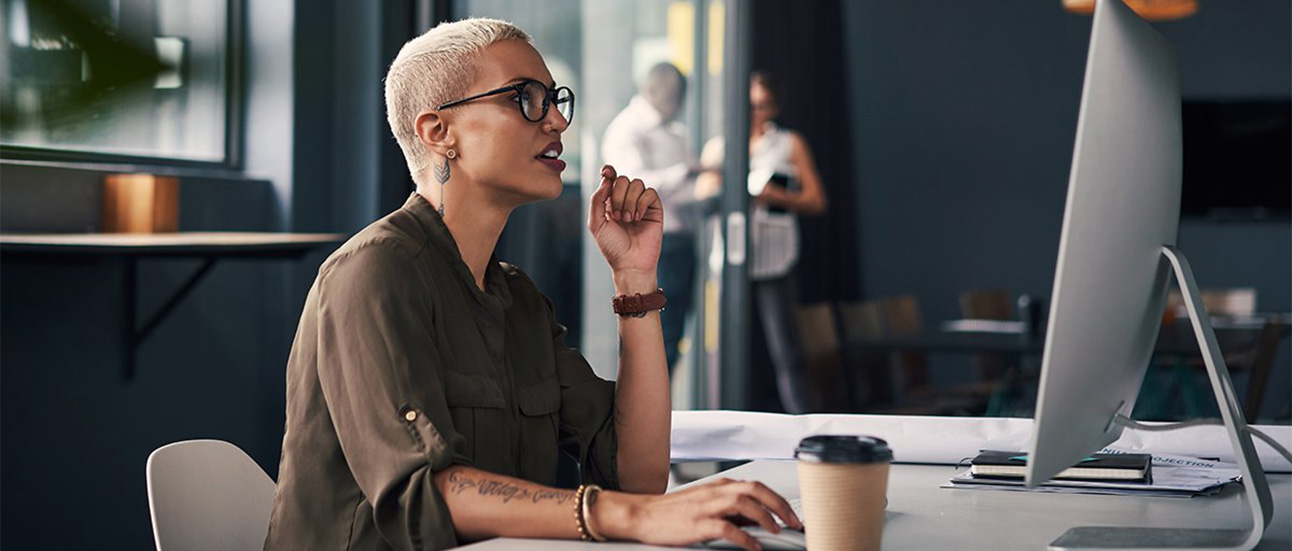 28%
Say that having the digital tools they need at work makes them happier.
What is digital transformation?
Digital transformation, according to The Enterprisers Project, is the "integration of digital technology into all areas of business." It's a reimagining of business, if you will, by digitising, digitalisation, and using other digital technologies. The definition is quite simple, but the inherent challenge in this process is the fact that it is a transformation and one, by its virtue of being digital, that tends to regularly challenge the status quo, grow, develop, innovate. It means rejecting long-standing traditional practices and embracing change, constant change.
Recently, digital transformation isn't just an idea or an ideal. Due to the restrictions of the pandemic, it's become imperative if businesses wanted to survive. While COVID-19 was a much-needed disruption to push for digital transformation, there are other reasons why your business should make the shift to digital.
Why should your business switch to digital?
A survey by McKinsey & Company in 2018 revealed that fewer than a third of digital transformations actually enhance a company's performance and sustain such improvements. However, further study revealed that there were other factors that affected this rate, including the lack of investment and commitment to digital transformation. According to McKinsey & Company, the successful companies were, in fact, those that deployed more technologies and are likelier to use more sophisticated technologies like "artificial intelligence, the Internet of things, and advanced neural machine-learning techniques."
What are examples of businesses undergoing digital transformation?
There a multiple examples of business adapting to new digital ways of operating, here are some examples showcasing different companies undergoing digital transformation:
Netflix
The streaming platform turned content company is a famous digital transformation success story. It started out by offering DVD sales and rentals by mail before transitioning into streaming media and turning itself into a successful media production enterprise whose content is accessible to members online.
Danske Bank
This well-established bank is a pioneer when it comes to comprehensive digitalisaton of documents. Sending 70 million documents each year, they have realised the need to cut costs and improve the digital customer journey.
To do this, they have partnered with e-Boks so they could send their mail digitally in all markets where they are present, using the digital postbox platform.
Target
Target's digital journey took eight years—and like many digital-first companies, it continues to evolve. Target introduced online purchases and developed a savvy social media strategy. When it introduced online shopping, its revenue increased by $6 billion.
USCIS
When Mark Schwartz was appointed CIO of the U.S. Citizenship and Immigration Service, he quickly began the agency's digital transformation, beginning with digitising paperwork and processes. He then turned USCIS to become more customer-centric then progressed to centralise digital applications.
Capital One
This bank holding company was the first to use Amazon's Alexa virtual assistant into its voice-activated financial transactions system. Its app also pioneered integration of Apple's TouchID biometric software.
Irish Government
Ireland is known as one of Europe's technology hubs, with a lot of big tech's HQs based in the emerald isle. It made sense that the government uses a secure and technologically advanced platform to communicate with its people.
As part of its ambitious strategy for public sector digitalisation, the Irish Government chose e-Boks as its supplier to facilitate digital posts between public authorities and private citizens.
PenSam Insurance
For an insurance provider, keeping documents is an integral part of their process. PenSam Insurance knows how important it is to streamline processes and keep these documents secure. For that reason, they are using the e-Boks platform to obtain consent in personal injury cases. This has significantly reduced the processing time compared to earlier when the documents had to be sent by physical mail.
What are the three main components of digital transformation?
Read about the three main components of digital transformation, Transformation of processes, Transformation of operations, and Transformation of relationships with people.
1. Transformation of processes
How do things work in your office? Are you still stocking up the mailroom? Are you still writing memos on Post-Its and taping it on your colleague's computer monitor? Are you still filing your archives in a storage area? A digital transformation of your business processes does not entail switching from mail and memo slips to email, which is essentially just a newer way of doing the same old thing.
A transactional change isn't transformational. How do you shake up your processes to become more efficient? For example, using our platform at e-Boks can help streamline many office paper systems into one online platform, saving time, space, effort, and contributing to efficiency.
2. Transformation of operations
Adapting technology should be able to improve your operations as well. Using the same example, e-Boks, you'll find how quickly office logistics are hastened thanks to its digital solutions.
For one, e-Boks facilitates digital payslips that cut costs and resources, allowing for more secure and convenient payroll systems. Not only does it make it easier for employees to access their historic salary data simplifying accounting and archiving it also improves employee engagement, making it faster to clarify changes on the payslip and answer FAQs.
3. Transformation of relationships with people
People are always at the heart of any industry, even for technology-forward companies. How is your digital transformation affecting the people? Your employees? Your consumers? Are you using data to improve how you relate and service your clientele? Are you using technology to ease your systems and, consequently, work?
This is especially important with the pandemic. e-Boks' unified system, which includes a self-service portal, helps your company communicate and work better. Just how much better is it for employees to not have to go through the red tape of the typical office logistics? Or have your customers quickly send feedback, prompting a proactive response on your end? e-Boks' safe and secure system makes the end-to-end line of communication so much more enriching.
How can digital transformation help businesses be sustainable?
Digital transformation is also transformative in another way. With its shift towards more future-proofed methods, it eliminates more tedious processes and contributes to be more efficient, not to mention ethical strategies. One of the best advantages of digitisation is the steps it takes towards environmental conservation. Here are just some of the ways that digital transformation can help reduce your carbon footprint.
1. Reduction of manual resources
The most obvious benefit of going digital is that it lessens the strain on resources. By going paperless, you save trees. By saving on space, you save on energy. The list goes on.
2. Push towards greener energy
It's no secret that data consumes infrastructure and energy. According to the International Energy Agency, data centers accounted for around 200 terawatt-hours of electricity consumption in 2019 (that's 1 percent of global use). However, many companies are taking the leap towards greener energy. Google, for example, invested $2 billion towards renewable energy. e-Boks, likewise, plans to source 100% carbon neutral data by 2030.
3. Efforts towards conservation initiatives
Apart from cleaner energy, many conservation-minded enterprises are really pulling their weight when it comes to giving back. e-Boks has a 2030 Sustainable Development Goal that has environmental objectives, including water, carbon dioxide, and paper saved, that will be tracked regularly. Part of this plan is also to plant 10,000 trees annually, reaching 120,000 trees by the deadline.
4. Data directed towards sustainability
It's no longer wise to separate the environment as being on the analog side of the equation. Tech is on your side. Artificial intelligence can connect people better, helping in disaster response, reducing air pollution, and making buildings more energy-efficient. Robots can make manual labor much easier. Analytics can help sort through weather and energy reports and forecasts.
The Exponential Climate Action Roadmap, which was launched in 2019, believes that digital tech can help reduce global carbon emissions by up to 15% through solutions in energy, manufacturing, agriculture, and land use, buildings, services, transportation, and traffic management. The exponential pace of tech and connectivity is predicted to create exponential effects on the environment as well.
How can businesses be more productive in the digital age?
It's important to understand that digital transformation doesn't end by replacing your paper mails with e-Boks' digital postbox. At its core, according to Harvard Business Review, it is about having a mindset to shake and disrupt systems, be agile, and always strive to be better. Increased productivity is the measure of success in the digital age. We'll let the numbers do the talking:
You can also read these tips on how your business can be more efficient:
Are businesses more secure by going digital?
One of the biggest hesitations of deep-diving into tech is security. Too often we've heard stories of hacking and malware and data breach, but there is definitely much more in the news about real-world thievery and identity theft. Bad things happen, regardless of where you are and what channel you use it has nothing to do with technology. However, being online addresses these woes by becoming more secure.
Traceability
Data can detect everything you do while online: what ads you click, what items you shop for, which paragraph you stopped on while reading. Every move can be traced, which makes for better accountability.
Unlimited security improvements
Security updates, like antivirus software, are being improved every day, battling the occasional online threat to assure you that your virtual world is safe and sound.
Highly personalised
Ideally, only you should know your password, which means only you have access to your online accounts, such as employment self-service portals. There should be no fear about HR handing over your payslip to someone else or a random colleague accidentally sneaking a peek into your bankbook.
Third-party platforms that answer your every digital need
Our platform at e-Boks is known for our security features, giving you absolutely no reason to stress over online threats, especially when it comes to your office systems and processes.
Is your company ready for the digital future?
Transform your business the safe, smart, and secure way. Learn more about what a digital postbox is.
For more than 20 years, we have helped public authorities and businesses securely digitise their communication flows.
We proudly provide the governments of Denmark, Greenland, Norway, Sweden and Ireland with national digital post solutions.
Well-renowned international banks, insurance companies and energy service providers have chosen to use the e-Boks platform instead of pursuing their own solutions.


Explore more insights & success stories