A wide range of businesses and institutions are partnering with e-Boks to future-proof their businesses. Find out how your business can improve productivity and generate new revenue streams.
Area Digital Transformation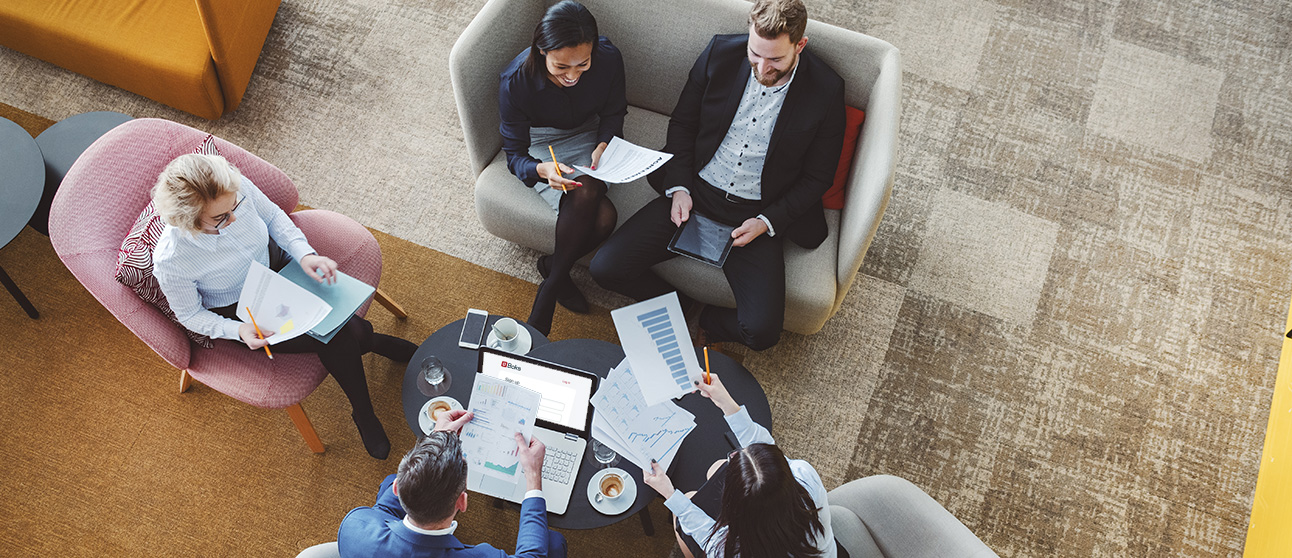 Digital Postbox
A digital postbox is a secure communication platform that ensures customers receive only legitimate messages without the risk of spam, phishing attempts or paper wastage and is a key component of any Customer Communication Management system.
Communication is at the center of all businesses, none more so than the telecommunications industry where reliable and secure methods of communication are paramount. Selecting the right digital communications platform can help set telecoms up for future success, improve relationships with customers, reduce carbon footprint, reduce costs and save precious time.
Prepare your business for the digital economy in a fast-changing world
With all the buzz about Web 3.0 and metaverse, you don't want to be left behind. Digitising your company and the processes, and even how you communicate with your partners and customers, should be a priority.
Soon, your business will cater to a younger generation who have grown up in a purely digital world where everything takes place online - sending messages, opening accounts, making payments, signing contracts, etc. And you must adapt all your processes to meet these needs, or risk losing your relevance and customers in this fast-paced new world.
A secure digital communication platform solution for telcos and banks
A digital postbox is a secure communication platform that ensures customers receive only legitimate messages without the risk of spam, phishing attempts or paper wastage and is a key component of any Customer Communication Management system.
Many corporations and institutions nowadays have their own communication solutions but these can be unfit for specific purposes or requirements. While these solutions may initially seem satisfactory, it becomes clear over time that they are not always customer oriented nor compliant.
The effect of these shortcomings is twofold. Customisations are required to be added at a later stage, increasing the cost and time associated with getting work done. Secondly, the lack of customer friendliness can lead to decreased customer satisfaction and lower NPS scores.
This is where e-Boks come in. With over 20 years of international experience in digital communications within the telecom and banking sector, e-Boks is eager to share the lessons we have learned.
We have helped several telcos and banks by building effective solutions and securely digitising communication flows. The unique e-Boks Digital Postbox Platform is a modern, off-the-shelf white-label solution that can simplify operations and increase efficiency. It comes with a standard set of features but can also be tailored to the needs of individual customers.
Governments in Ireland, Denmark, Norway and Greenland all rely on e-Boks for secure digital communication while several top-tier banks, insurance companies and utility providers have also chosen the e-Boks platform as their Digital Postbox instead of developing their own costly solutions.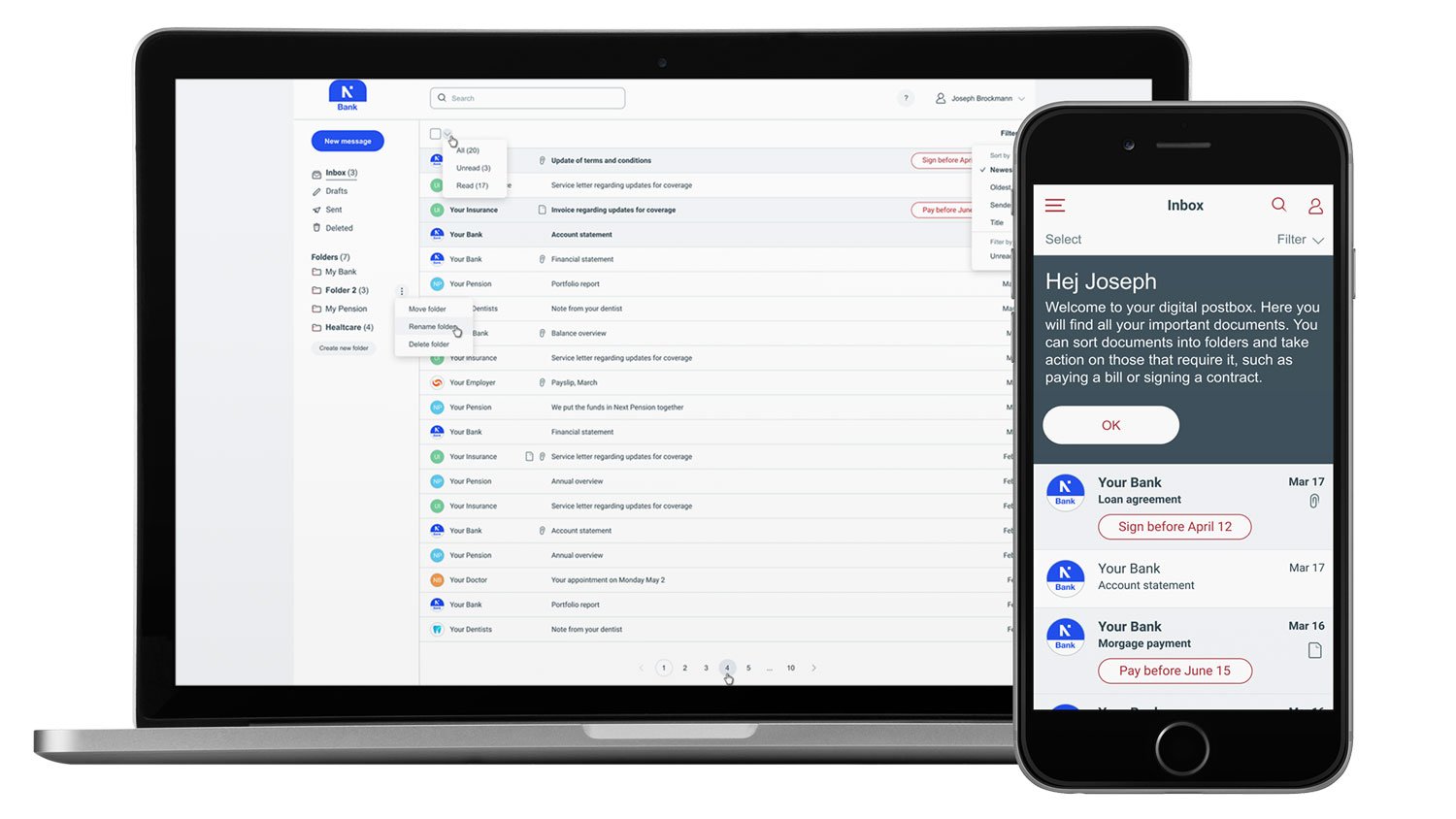 The benefits of the e-Boks secure communication platform for the telecom and financial industry
The Digital Postbox Platform comes packed with features to give the best and safest experience possible for financial institutions and their customers:
Customisation
The platform fits in seamlessly with existing banking infrastructure and various output management systems through open APIs. As a white-label solution, it is fully customisable and can match any corporate visual identity by styling and branding and creating organisational structures as needed.
Paperless
The platform allows telecoms and financial institutions to introduce paperless distribution of sensitive documents and reduce associated cost by 80% while supporting their mission critical core-banking proposition.
100% compliance to regulations
The platform complies with EU regulations and standards such as the Connecting Europe Facility (CEF) . Document actions are tracked and saved in the organisation's archive. The audit trail is visible for both financial institutions and their clients, leading to a significant reduction in support cases.
Smart distribution
Smart distribution allows for users to send messages and documents easily and efficiently using REST API or directly or via the platform with no integration required.
Opt-in/out easily
The opt in/opt out function offers users different ways of giving consent to receiving messages and documents from your organisation.
Two-factor authentication
The e-Boks platform provides greater security thanks to two factor authentication where all verified data is received from an identity provider of your choosing.
A hybrid cloud solution
The platform can be offered as an AWS Hybrid Cloud solution that helps organisations integrate on-premise and cloud operations.
Secure by design
The Digital Postbox Platform is a flexible, white-label solution built to comply with existing and future regulatory requirements and legal frameworks. This is especially helpful for the financial industry and their clients where transactions are highly sensitive.
Self-service
The platform offers the function of being able to manage a handful of features such as message distribution and monitor key statistics on the platform, enabling improved operation analysis.
Why your company should become an e-Boks partner
e-Boks has demonstrated success by helping companies become more efficient
e-Boks has been a provider of digital infrastructure and helping telecoms and financial institutions and other businesses become future ready for over 20 years. In 2020, over 610 million documents were sent through the e-Boks platform which works out to 62,292 documents every hour. 383,333 signed documents are sent through the platform each month and 16,677 invoices are sent through each day, highlighting the reliability, efficiency, and security of e-Boks.
Businesses and consumers prefer working with companies who advocate for sustainability
By making processes more efficient and operations paperless, you can significantly reduce your environmental impact. And this is something you can proudly tell your stakeholders.
The "Strength of Purpose" global study states that consumers are four to six times more likely to champion purpose-driven companies. And by partnering with e-Boks, you have allied yourself with a company with a strong environmental cause.
From a carbon footprint perspective, e-Boks helps save more than 1000 kg of paper by helping businesses shift from physical documents to digital post. In addition to this, e-Boks also helps to save over 403,000 litres of water every hour that is normally used in the production of paper. e-Boks looks to continue this trend and have set the goal to rely on 100% carbon neutral data from data center suppliers by 2030.
By reselling e-Boks, you open your business to new revenue streams
As a trusted solution of many companies and governments, partnering with e-Boks gives you an opportunity to expand your business with digital postboxes. By streamlining processes, it helps your company focus on its core business. An example is PenSam Insurance, a client of e-Boks, that was able to digitise their insurance signing process. By doing this, it freed up time for their employees, who were able to secure more accounts.
If you're a business in the telecom or financial industry, having that extra time would be beneficial strategically, as your team can use it for planning on how to move forward and create new streams of income.
Interested in deploying the e-Boks platform or offering it to your customers, then reach out today!
For more than 20 years, we have helped public authorities and businesses securely digitise their communication flows.
We proudly provide the governments of Denmark, Greenland, Norway, Sweden and Ireland with national digital post solutions.
Well-renowned international banks, insurance companies and energy service providers have chosen to use the e-Boks platform instead of pursuing their own solutions.
Explore more insights & success stories